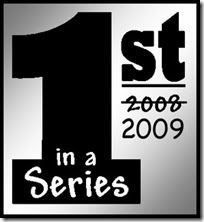 Another late entry, but the books I've read this year fit in well with this challenge. :)



Guidelines for 1st in Series Challenge 2009
1. Anyone can join. You don't need a blog to participate.

2. Read 12 books that are the first in any series. You may read & list your chosen books any time during the year.

3. Challenge begins January thru December, 2009.

4. You can join anytime between now and December 31, 2009.
Here's my list:
(updated 10/25/09)
Confessions of a Jane Austen Addict - Laurie Viera Rigler (done)

A Plague on Both Your Houses - Susanna Gregory

(done)



Mine Till Midnight - Lisa Kleypas (done)

His Majesty's Dragon - Naomi Novik (done)

A Catch of Consequence - Diana Norman (done)

Mistress of the Art of Death - Ariana Franklin (done)

Wizard's First Rule - Terry Goodkind (done)

The Strange Files of Fremont Jones - Dianne Day (done)

I finished this challenge on November 27, 2009!