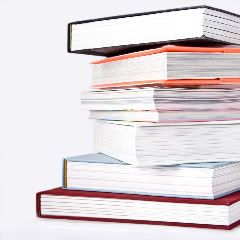 I saw this
meme
over at
J. Kaye's Book Blog
, which was a shortened version of the meme at
Psychotic State
. I thought it looked fun, so here goes:
1. What author do you own the most books by?
Brock and Bodie Thoene
. My mother-in-law gave me her collection, which included all of the books in their Zion Chronicles, Zion Covenant, Galway Chronicles, Shiloh Legacy, and a couple of the Saga of the Sierras titles.
2. What book do you own the most copies of?
A US History textbook called
A People and a Nation.
I've got several copies, but all different editions or versions. I teach history at our local community college, and I've used that book several times for my US History class.
3. What fictional character are you secretly in love with?
Mark Darcy from
Bridget Jones's Diary
. It's probably partly because he was played by Colin Firth in the movie.
4. What book have you read more than any other?
Pride and Prejudice
and the Harry Potter series. I'm not much of a re-reader, but I've read those books at least 3 times.
5. What was your favorite book when you were 10 years old?
The Chronicles of Narnia series. I distinctly remember doing book reports on several of them at school.
6. What is the worst book you've read in the past year?
The Memory Keeper's Daughter
by Kim Edwards
.
I really wanted to like it. But the whole premise turned me off from the start. I just couldn't identify with the characters
7. What is the best book you've read in the past year?
How do you pick just one???
The Apothecary's Daughter
by Julie Klassen was really good, and I loved
The Winthrop Woman
by Anya Seton.
8. If you could tell everyone you tagged to read one book, what would it be?
Gosh, it's hard to say. I hate recommending books without knowing what genres people like to read. I guess I'd suggest
A River Runs Through It and Other Stories
by Norman Maclean.
9. What is the most difficult book you've ever read?
Rivers of Empire

: Water, Aridity, and the Growth of the American West
by Donald Worster. It was thick, it was complicated, it was a different perspective/analysis than I was used to.
10. Shakespeare, Milton or Chaucer?
Ummm . . . Chaucer.
11. Austen or Eliot?
Austen, of course.
12. What is the biggest or most embarrassing gap in your reading?
I've never read a book by Charles Dickens. I'm planning to rectify that oversight sometime before the end of the year.
13. What is your favorite novel?
Pride & Prejudice
.
14. What is your favorite play?
West Side Story.
15. Poem?
Shelley's
Ozymandias.
16. Essay?
"A Modest Proposal," by Jonathan Swift. I read this in high school and thought it was a brilliant political satire.
17. Short Story?
"A River Runs Through It" by Norman Maclean.
18. Nonfiction?
Flags of Our Fathers
by James Bradley.
19. Science Fiction?
I'm not much of a Science Fiction reader. Of the few I've read, I really liked
Sphere
by Michael Crichton.
20. Who is your favorite writer?
Jane Austen.
21. Who is the most overrated writer alive today?
Danielle Steele. But I'm not much of a fan of romance anyway.
22. What are you reading right now?
Miracle at Philadelphia: The Story of the Constitutional Convention
by Catherine Drinker Bowen
23. Best memoir?
Warriors Don't Cry
by Melba Patillo Beals
24. Best history?
Impossible to choose just one. I can think of many that are my favorites for certain time periods and locations. I thought
Vanishing Landscapes: Land and Life in the Tulare Basin
by William L. Preston was a fascinating and eye-opening look at the region I live in. I also thought
Heart of the Rock: The Indian Invasion of Alcatraz
by Adam Fortunate Eagle was a good read too.
25. Best mystery or noir?
Another difficult to choose category because I love mysteries. This year so far,
Mistress of the Art of Death
by Ariana Franklin was my favorite.
Wow, that was harder than I thought it would be. :)