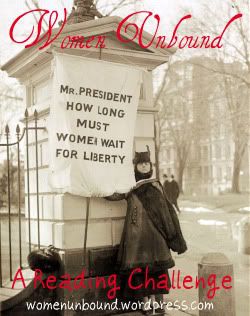 Even in my relative newness to Twitter, I still managed to catch the development of a new reading challenge called
Women Unbound
. The challenge calls for participants to read fiction and non-fiction book related to the idea of "women's studies," which is pretty broad and, as defined on the challenge site, includes books about women and their place in society as well as books about notable women and cultural books focused on women. The challenge runs from November 1, 2009, to November 30, 2010.
I really enjoy reading books with strong female protagonists, and as a history teacher I love to study the contributions of women to history and their changing place in society. So, this challenge seems right up my alley, and I figure I will probably have a lot of books in my TBR pile that will count for this challenge. Right now I'll aim for the
Bluestocking level
, which is to read at least 5 books, with at least two of them being non-fiction. I've actually worked up a larger list than that of books that I own that I can read for this challenge (and would bring me up to Suffragette level), but I don't want to over-commit myself on this and make it seem like a chore to get them all read.
Here's my tentative list:
Jane Eyre by Charlotte Bronte
Sacred Hearts by Sarah Dunant
In the Devil's Snare by Mary Beth Norton (non-fiction on the Salem Witch Trials)
The Heretic's Daughter by Kathleen Kent
Abigail and John: Portrait of a Marriage by Edith Gelles (non-fiction)
The Life of Elizabeth I by Alison Weir (non-fiction)
The Mists of Avalon by Marion Zimmer Bradley
The Portrait of a Lady by Henry James
The Bonds of Womanhood: "Woman's Sphere" in New England, 1780-1835 by Nancy F. Cott (non-fiction)
Completed: