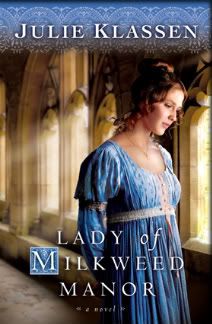 Lady of Milkweed Manor
by
Julie Klassen
Genre:
Christian Historical Fiction
Pages:
352
Publication Date:
2008
Publisher:
Bethany House
Source:
Purchased online
Rating:
5 of 5 stars!
Book Description (from the back cover):
Even a proper vicar's daughter can make a mistake... and now Charlotte Lamb must pay a high price for her fall. To avoid the prying eyes of all who know her, she hides herself away in London's forbidding "Milkweed Manor," a place of mystery and lore, of old secrets and new birth.
But once there, she comes face-to-face with a suitor from her past--a man who now hides secrets of his own. Both are determined, with God's help, to protect those they love. But neither can imagine the depth of sacrifice that will be required.
Sprinkled with fascinating details about the lives of women in Regency England, Lady of Milkweed Manor is a moving romantic drama about the redemption of past failings and the beauty of sacrificial love.
My review:
I could not put this book down. I ordered it because I really liked Klassen's other book,
The Apothecary's Daughter
, but because the cover blurb is fairly vague about the book's contents (and I didn't read any reviews of it first), I didn't really know what
Lady of Milkweed Manor
was about until I started reading. I was immediately hooked, and stayed up late to finish the book on the same day I started reading it.
**If you want to start the book not really having a clue what it was about like I did, stop reading now.**
This book portrays Regency England in a different way than I am used to. Charlotte's family turned their backs on her because she was pregnant out of wedlock. She leaves home and takes refuge at a lying-in hospital for unwed mothers. The world portrayed at this hospital, the attached foundling ward, and the livelihood of wet nurses was intriguing. I was also fascinated by the information on the treatment of depression and neurosis during pregnancy during this time period (the treatment was, not surprisingly, very limited).
Even though this book is set in Regency England, the experiences and fears of the women in the book were easy to relate to. As a mother, I could identify with the fears of pregnancy, the emotions nursing a child brings, and the joys and fears of parenthood. Thankfully I have never experienced the more heartwrenching aspects of the story--the loneliness, the losses, the destitution, and the sacrifices.
This story was moving and kept me turning the page, wanting to know what would happen next. Would Charlotte get married? Would she be reunited with her son? Who would she marry? Would her family ever forgive her and accept her back? What would happen to her?
The faith aspect of the novel is very subtle. Charlotte's father is a vicar, but seems unable to get past her mistake and the social embarrassment and scandal it will bring to forgive her. The most visible reference to faith comes at the end, when Charlotte finds herself counting her blessings and thanking God for helping her transform her past pain and sacrifices into something beautiful.
**If you stopped reading above, you can continue reading here. :) **
This book was wonderful. It is easy to see why it was a finalist for a
Christy Award.
This is yet another book by Julie Klassen that will reside on my keeper shelf, and I am eagerly awaiting the release of her next book.
(
Lady of Milkweed Manor
(2007) is
Julie Klassen
's first novel. She has since written
The Apothecary's Daughter
(2009) and has a third book coming out in January of 2010,
The Silent Governess
.)