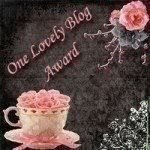 Thank you to Lori at ~Some of My Favorite Books~ for sending me the One Lovely Blog Award! I'm sort of new to the book blogging scene, and it's been fun getting to know other book bloggers. Lori has a great giveaway going on right now--she's giving away a signed copy of The Jewel of His Heart by Maggie Brendan. The contest ends on October 18 at 11:59 PM (EST), so get over there and enter to win!

Here are the rules of the "One Lovely Blog Award":
Accept the award, post it on your blog together with the name of the person who has granted the award, and his or her blog link. Pass the award to
15 other blogs that you've newly discovered
. Remember to contact the bloggers to let them know they have been chosen for this award.
Here are some blogs I have recently enjoyed:
Cecelia @
My Christian Fiction Blog
Wendy @
A Novel Challenge
Lori @
Lori's Reading Corner
Daphne @
Tanzanite's Shelf and Stuff
Amy @
Passages to the Past
Jemima @
The Reading Journey
Alice @
Hello My Name Is Alice
Margaret @
Creative Madness That Makes Me Myself
Rachael Kae @
Lord, Help Me Survive My Blessings
MaryAnne @
mama smiles
Kelly @
Joyful Adorations
September @
Septography
Jamie @
Miss Madi's Journey
Diana @
BakerBits
Heidi @
Cake Crumbs