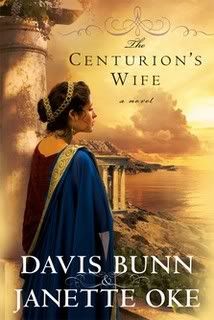 I picked up and finished
The Centurion's Wife by Davis Bunn and Janette Oke
this week. It has been years since I have read a book by Janette Oke or Davis Bunn, but I enjoyed the last books I read by them and hoped this would be equally enjoyable.
I wasn't sure what to expect, but once I realized who the characters in the story were, I became quite interested. Leah is the niece of Pontius Pilate, who is working as a servant in his household until he arranges a favorable marriage for her. She learns she is to be betrothed to a Roman centurion named Alban, a natural leader with strong ambitions. Alban also turns out to be the Roman soldier who had sought out Jesus to heal his dying servant (from
Matthew 8:5-13
and
Luke 7:1-10
). I found these choices for main characters to be very creative and interesting.
The story takes place in the days and weeks following Jesus's crucifixion. Pilate thought he had washed his hands of the whole affair, but when he learns that Jesus's grave has been unsealed and the body is missing, he begins to worry that the Jews are planning a revolt. He decides to use Alban, who has a good relationship with the Jews in the area, to try and find out what is going on, requiring him to learn what happened to Jesus's body before he can marry Leah. Leah is not thrilled about the idea of marrying, but she has little choice as Pilate chose to use her marriage to his advantage. Pilate's wife, Procula, is also worried about what the Jews are planning and sends Leah to find Jesus's disciples to try to learn what she can. So, both Leah and Alban are trying to learn the same information, unaware of what the other is doing until near the end of the book. In the process, they begin to question all they thought they knew and come to believe that what Jesus's followers are saying is true.
The book really impressed me. I was impressed with the creative storyline, even though I already knew the biblical version. I really enjoyed the imagery and descriptive talents of the authors. I often felt like I was right there, standing on the top of a hill with Alban, or browsing through the marketplace with Leah. I was moved to tears in a few places as the main characters came to realize what was going on, and to see them come to the same conclusion, regardless of the danger to themselves and their futures.
I thought it was interesting to see this time period and these events through the eyes of Romans. Things were turbulent and confusing, there were rumors and gossip flying around, and there were dangerous people trying to prevent the truth from getting out. It was also interesting to see the questions that Jesus's followers had during the time. They all agreed that He had risen, but they didn't quite understand what it meant or what they needed to do yet. It really was a fascinating time to read about. I am familiar with the biblical accounts of this time, but this book (even if it is fiction) gave me a bit of a better understanding of what people were like in that time. The book personalized the events for me, pushing me to consider what it must have been like for the people living through those events.
I enjoyed the book. The one drawback that I found was the existence several typographical errors in the book--errors that were a bit distracting. Hopefully they do a better job in editing the second book of the series,
The Hidden Flame
, which is set to be released January 1, 2010. I am looking forward to its release.
The Centurion's Wife
leaves the reader hanging, wondering what Alban's fate with Pilate will be. I expect that it will be explained in
The Hidden Flame.
This book gets 4 of 5 stars.
Book Details:
Davis Bunn and Janette Oke. The Centurion's Wife. Bethany House Publishers, 2009. 378 pp. $13.99. ISBN 978-0-7642-0514-9