This is a weekly book meme that focuses on children's books, hosted by
Mouse Grows, Mouse Learns
. This week, I'm focusing on a group of Elmo books that my daughter (she turns 3 in January) has been reading almost nightly.
~~~~~~~~~~~~~~~~~~~~~~~~~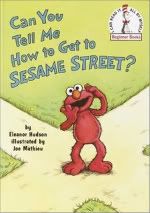 Can You Tell Me How to Get to Sesame Street?
by Eleanor Hudson is an adventurous book that begins with Elmo reading books (which my daughter loves to do) and moves on to Elmo flying a kite and then being carried away by the wind while holding onto his kite. He ends up far away from Sesame Street, landing in the back of a truck full of ducks, plopping onto a log lined with frogs, surfing in a river on his kite, flying up to outer space, and landing at a zoo, where he is finally pointed in the right direction to get back home. There is some fun rhyming going on, and my daughter especially likes the zoo at the end.
~~~~~~~~~~~~~~~~~~~~~~~~~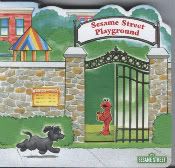 Sesame Street Playground
by Sarah Albee is something we picked up at the dollar store. It has quickly become a favorite. The premise of the story is that Elmo is trying to help find a lost puppy, which he finds at the Sesame Street Playground. The puppy steals a baseball from some monsters playing a game, and the monsters give chase. Elmo is worried that the puppy will be scared, so he asks his friends at the playground to distract the monsters. The monsters are invited to help build sandcastles, push little monsters on swings, and sit on the seesaw. By the end, the big monsters are having so much fun they give up their baseball game to stay and play at the playground. On each page, the little black puppy is hiding, and my daughter loves pointing him out.
~~~~~~~~~~~~~~~~~~~~~~~~~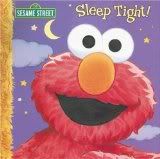 Sleep Tight!
by Constance Allen is another book we found at the dollar store. It follows the bedtime rituals of the residents of Sesame Street, from teeth-brushing and baths to reading stories and singing songs. And of course The Count counts sheep. :) It's a nice story to wind down the night with, and my daughter likes to say "Sleep tight, little Elmo!" at the end.
~~~~~~~~~~~~~~~~~~~~~~~~~