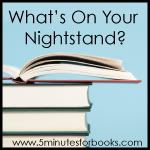 Every 4th Tuesday of each month,
5 Minutes for Books
hosts an event called
What's On Your Nightstand?
It gives book bloggers a chance to connect with each other and see what we are reading and planning to read.
For my introductory post in this bookish carnival, I thought I'd take an actual picture of the books on my nightstand (but stacked a bit more nicely than usual, LOL).
These are all books that are in various stages of being read (each one has a bookmark in them and I'm working on reading them). The pile is a bit larger than I usually have going at one time, I think partly because I've stalled out on a couple. But here's a list of the books: