So, I've seen Wish List Wednesday posts all over the blogosphere, and I thought it would be a neat idea to adapt it to my blog. I have wish lists at both
Paperback Swap
and
BookMooch
, and am always adding new books to them. So, I'm going to feature a book (or two) each week on Wednesdays that I'm wishing for. You are welcome to join in on the fun!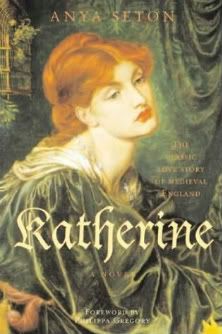 Today, I am wishing for a couple of books by Anya Seton. I read
The Winthrop Woman
over the summer and I really liked it, so I'm looking to read more of her work. First,
Katherine
. I have heard wonderful things about
Katherine,
so I put it on my wishlist.
Here's the summary from Amazon.com:
This classic romance novel tells the true story of the love affair that changed history-that of Katherine Swynford and John of Gaunt, Duke of Lancaster, the ancestors of most of the British royal family. Set in the vibrant 14th century of Chaucer and the Black Death, the story features knights fighting in battle, serfs struggling in poverty, and the magnificent Plantagenets-Edward III, the Black Prince, and Richard II-who ruled despotically over a court rotten with intrigue. Within this era of danger and romance, John of Gaunt, the king's son, falls passionately in love with the already married Katherine. Their well-documented affair and love persist through decades of war, adultery, murder, loneliness, and redemption. This epic novel of conflict, cruelty, and untamable love has become a classic since its first publication in 1954.
Not my usual reading fare, but I'm really wanting to read another book by Anya Seton.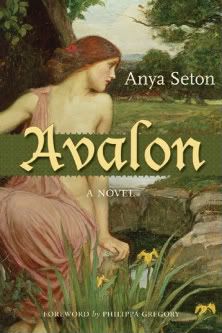 Second on my list is
Avalon by Anya Seton
, which is interesting partly because of the beautiful cover.
Summary from Amazon.com:
This saga of yearning and mystery travels across oceans and continents to Iceland, Greenland, and North America during the time in history when Anglo-Saxons battled Vikings and the Norsemen discovered America. The marked contrasts between powerful royalty, landless peasants, Viking warriors and noble knights are expertly brought to life in this gripping tale of the French prince named Rumon. Shipwrecked off the Cornish coast on his quest to find King Arthur's legendary Avalon, Rumon meets a lonely girl named Merewyn and their lives soon become intertwined. Rumon brings Merewyn to England, but once there he is so dazzled by Queen Alrida's beauty that it makes him a virtual prisoner to her will. In this riveting romance, Anya Seton once again proves her mastery of historical detail and ability to craft a compelling tale that includes real and colorful personalities such as St. Dunstan and Eric the Red.
I think this second one interests me more, but I still would like to read both of them.
~So, what are YOU wishing for today?~