I have wish lists at both
Paperback Swap
and
BookMooch
, and am always adding new books to them. So, I'm going to feature a book (or two) each week on Wednesdays that I'm wishing for. You are welcome to join in on the fun!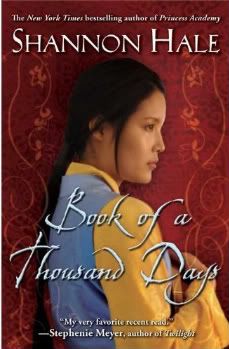 I recently added
Book of a Thousand Days by Shannon Hale
to my wishlist. I read and enjoyed
Austenland
this summer and suddenly had the urge to see if Ms. Hale had any other books that sounded interesting. This book certainly sounds intriguing.
When Dashti, a maid, and Lady Saren, her mistress, are shut in a tower for seven years because of Saren's refusal to marry a man she despises, the two prepare for a very long and dark imprisonment.

As food runs low and the days go from broiling hot to freezing cold, it is all Dashti can do to keep them fed and comfortable. With the arrival outside the tower of Saren's two suitors—one welcome, the other decidedly less so—the girls are confronted with both hope and great danger, and Dashti must make the desperate choices of a girl whose life is worth more than she knows.

With Shannon Hale's lyrical language, this little-known classic fairy tale from the Brothers Grimm is reimagined and reset in a land inspired by the Asian steppes; it is a completely unique retelling filled with adventure and romance, drama and disguise.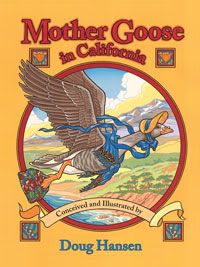 The other book I discovered this week and am really excited about is
Mother Goose in California by Doug Hansen
. We live in California, so this would be a wonderful addition to my kids' library. From the
publisher
:
Once upon a time, before the Second World War, children's books were whimsical, colorful, and exuberant. Artists and authors such as Howard Pyle, N. C. Wyeth, Howard Garis, and Walter Brooks bestowed wide-eyed wonder on generations of children.
Artist Doug Hansen has recaptured this whimsy in a way that is at once nostalgic and brilliantly original. The text of this book is the pure vintage Mother Goose of your grandmother's childhood but set to a new illustrated backdrop of California landmarks such as Half Dome and the Golden Gate Bridge—and inhabited by conquistador cats and sailor squirrels!
The level of detail in the illustrations is marvelous. For the letter "T" Hansen recreates an old-fashioned toy store filled with handcrafted gems. "Jack be nimble" is Mark Twain's famous jumping frog dressed up as a gold prospector, complete with a Colt six-shooter and holster, pickaxe, and panning tray. And the three little kittens have lost their mittens to Stellar's jays!
I'm thinking I will probably buy this second book for the kids for Christmas this year...
So, what are you wishing for this week?