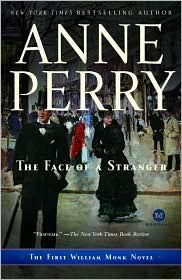 The Face of a Stranger
by Anne Perry
Genre:
Historical Fiction Mystery
Pages:
345
Publication Date:
1990
Publisher:
Ballantine Books
Source:
Paperback Swap
Rating:
★★★★ 4/5 stars
The Face of a Stranger by Anne Perry
is the first book in her William Monk series. It is not my first Anne Perry book though--I read the 9th book in the series (
A Breach of Promise
) last year for a book club (which goes against all of my basic instincts when it comes to reading books from a series--I generally like to read them in order!). It intrigued me, so when I found the first book in the series at my favorite used book store, I snatched it up.
William Monk is a man who does not know himself. Literally. The book opens with him waking up in a London hospital in 1856, unaware of what happened to him or even what his name is. As the book progresses he learns he is a police detective, and as he steps back into his everyday life he tries to puzzle out what sort of man he is, who his friends and enemies are, and what he was doing before the carriage accident stole his memory. It is interesting to see him struggle with the less admirable aspects of his character when he learns of them. Monk is a fascinating character, and as he tries to regain his memory he also tries to solve the brutal murder of Major Jocelin Grey, a Crimean war hero and gentleman. He also meets beautiful Imogen Latterly, a woman from his last investigation whose father-in-law's suicide is somehow connected to the mystery he is currently grappling with.
My favorite character in the book is Hester Latterly. She is Imogen's less-than-genteel sister-in-law, who spent time in the Crimea working with Florence Nightingale. She is a strong female character who is determined to live her life on her own terms, without a man if necessary. She isn't afraid to speak her mind, and although Monk seems to loathe her, she ends up being of great assistance to him in the end.
I really liked the book. The characters were fascinating and unusual (even though Monk seemed a bit angst-ridden at times), and I thought the idea of the main character starting with an almost blank-slate and having to relearn everything about himself was very creative. I am looking forward to see where the next book,
A Dangerous Mourning
will take me.