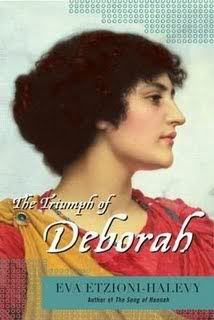 The Triumph of Deborah by Eva Etzioni-Halevy
is a historical fiction novel based on the biblical story of Deborah (found in Judges 4-5). Deborah was the only woman to be a Judge of Israel in biblical times. She was a strong woman in a leadership role, which is rare in the Bible. As such, in my mind she is one of the more interesting women in the Bible.
Here is the blurb from the back of the cover:
In ancient Israel, war is looming. Deborah, a highly respected leader, has coerced the warrior Barak into launching a strike against the neighboring Canaanites. Against all odds, he succeeds and returns triumphantly with Asherah and Nogah, the daughters of the Canaanite king, as his captives. But military victory is only the beginning of the turmoil, as a complex love triangle develops between Barak and the two princesses.
Deborah, recently cast off by her husband, develops a surprising affinity for Barak. Yet she struggles to rebuild her existence on her own terms, while also groping her way toward the greatest triumph of her life.
Filled with vivid historical detail, The Triumph of Deborah is the absorbing and riveting tale of one of the most beloved figures in the Bible, and a tribute to feminine strength and independence.

This book was really well-written. The historical detail is excellent--the reader gets a good sense of what life was probably like during that time period. The characters are interesting. The story is intriguing and kept me turning the pages, wanting to know what would happen next. It is also important to note that this is historical
fiction
. It is based on a story in the Bible that gives relatively few details about the lives of Deborah and Barak outside of their fight against the Canaanites, so what the author has done is really quite inventive.
That said, I had a hard time with the characterization of Deborah in this book. Knowing her role as a prophetess and Judge of Israel, I could accept the idea that perhaps her husband could have become dissatisfied with her less-traditional role and headstrong personality and divorced her. But then she had an affair with Barak, which she justifies as not being adultery because she was a divorced woman (admittedly, I'm having a hard time with this concept because I'm not wholly familiar with the way adultery was understood at that time). I don't think it necessarily bothers me that she is portrayed as a passionate woman with human weaknesses, I think it is the justification given for her actions with Barak that leaves me unsettled.
I had a much easier time with the other characters. Barak was a warrior and it was conceivable that he could have been a womanizer. The two fictional daughters of the Canaanite king were fascinating characters, and I found myself sympathizing with Asherah, who was deeply in love with her husband Sisra, but was treated like the spoils of war by Barak. I also really felt for Nogah, the sister who was not as beautiful on the outside, but who loved Barak with all of her heart and was heartbroken by his actions towards her. I liked how even though they had their ups and downs, the sisters' relationship eventually played a part in helping to forge peace between the nations in the end. I was also happy to see how Barak's realization of his love for Nogah changed him for the better.
The Triumph of Deborah
is an intriguing historical romance. Even though it has biblical themes, it is not what some readers would call "inspirational" romance (you know, "clean" romance with Christian themes)--there is sexual content in this novel, so if that isn't for you then you should probably pass this one by. And even though this book has aspects of spirituality in it, it is not a book about theology. I would recommend this book to those who are looking for a well-written historical romance (which isn't too explicit) and who might have some interest in what life was like for people living during the time period. I ultimately had mixed feelings about the book, but I still think it deserves 4 of 5 stars. It was an easy read, but I also felt like I had a lot to digest when I was finished.
Rating:★★★★ 4/5 stars
Eva Etzioni-Halevy has also written two other novels about women in the Bible,
The Garden of Ruth
and
The Song of Hannah
.
Book details:
Eva Etzioni-Halevy. The Triumph of Deborah. Plume, 2008. 358 pp. $14.00. ISBN 978-0-452-289062
**This book was provided for review by the author (for more information on my reviews, please view my
disclosure policy
).**