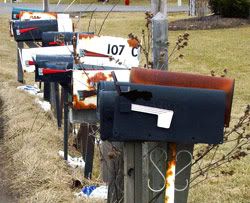 Every week Marcia at
The Printed Page
hosts
Mailbox Monday
. It's a chance to share the books that came to your house last week, and to check out what other book lovers received. I always end up with several new books on my wish list after I go check out other people's mailboxes on Mondays.
I'm going to be lazy this week and use the Amazon image/link boxes for my mailbox. I don't feel like downloading images and linking each one up by hand this week. :-P
Here's what I received:
I won America's White Table by Margot Theis Raven in a giveaway at 5 Minutes for Books. It's a wonderful children's book explaining a Veteran's Day tradition of setting a table in honor of veterans. I also won a copy from Brimful Curiosities, but when I told her I already got a copy, she asked if I'd like to send it to a school. So the elementary school my father just retired from is getting a copy of this book as well. :) Thank you for the great idea!

An Echo in the Bone by Diana Gabaldon was another giveaway win--but this one is SIGNED! A very special THANK YOU to Deanna at Mom - Musings for this very special giveaway! She actually got to meet Diana Gabaldon and had the book signed. I get geeked out just thinking about it. LOL
The Lovely Bones by Alice Sebold was another giveaway win (I've been really lucky lately, or just entering tons of giveaways). It isn't the kind of thing I normally read, but I've been finding that going out of my comfort zone is often a good thing. Thank you to Vera at Luxury Reading for hosting this giveaway.
That's what came to my mailbox this week! What was in yours?