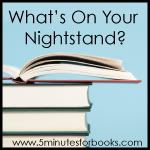 Every 4th Tuesday of each month,
5 Minutes for Books
hosts an event called
What's On Your Nightstand?
It gives book bloggers a chance to connect with each other and see what we are reading and planning to read. It gives
me
a chance to look back at what I've completed over the past month and to put together a rough plan for the upcoming month's reading.
Here's this month's picture of my nightstand: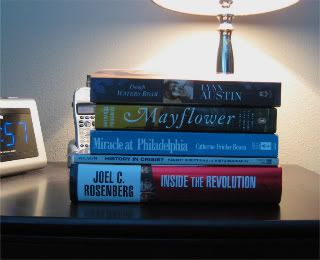 This month's nightstand has three books from last month still there, and probably won't be finished before next month's On My Nightstand post, either (nonfiction takes me longer to read)--
But there are also two new books that I'm working on too--
These aren't pictured on my nightstand, but I'm also planning to complete the three books in
J.M. Hochstetler's American Patriot Series
and
The Rose Legacy by Kristen Heitzmann
. Then hopefully some other books from my giant TBR pile!
I finished three of the books that were pictured on my nightstand last month (the links below take you to my reviews):
A River Runs Through It and Other Stories by Norman Maclean (no review yet)
I also finished and reviewed (links go to my reviews):
I'm trying to get a bunch of recreational reading in right now because I'm going to be teaching a class January-March at the local university (a huge surprise, considering current budgets), and I'm pretty sure I won't get much reading done then at all.
So, that's what's on my nightstand. :) What's on yours?