Every week
Mouse Grows, Mouse Learns
hosts
What My Child Is Reading
. It's a chance to share the books that our kids love and have been reading for the past week. Here are some of the winners at our house from the past week.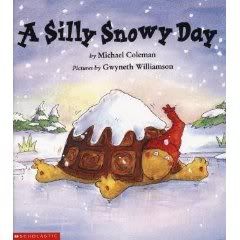 A Silly Snowy Day by Michael Coleman
was a book my son wanted to read several times this past week. It is the story of a tortoise who doesn't want to go to bed (hibernate) for the winter because she wants to see what it is like outside. After her parents go to sleep, she goes out to explore, but finds that she isn't really made for the winter like the other animals are (each animal claims it is "Ridiculous!" that a tortoise is out during the winter). Eventually she slides her way back into her home and falls fast asleep. A cute story for the winter months.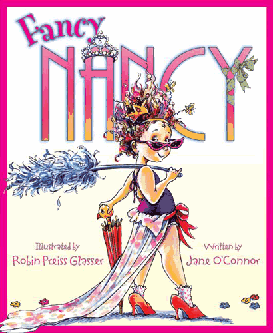 Fancy Nancy by Jane O'Connor
is apparently all the rage right now--I happened to see some Fancy Nancy dresses and accessories at Target when I was shopping in the toy section. Nancy is a fancy girl. Her favorite color is fuchsia (a fancy way of saying purple), she can't wait to learn French (because everything in French sounds fancy), and she loves to wear fancy clothes. But her family is not fancy at all, so she makes it her goal to teach them how to be fancy. This is a really fun story, and I love the last line: "And all I say back is 'I love you,' because there isn't a fancy--or better--way of saying that."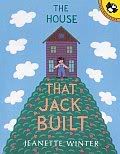 The House that Jack Built by Jeanette Winter
is a book that we have had for a long time. It was one of my son's favorite books when he was just a toddler, and now my daughter loves it too. The pictures are great, and the rhyming and repetition I think keep my kids coming back to it. It is just a really fun book to read. I'll make one embarrassing admission, however. When we get to the line, "This is the cock that crows in the morn," we edit it to say rooster because we've found it's a bit awkward when adults hear the kids talking about roosters/chickens using that word--they don't always make the connection and look disconcerted when they hear it. LOL!
*****************************

That's what my kids have been reading this week. Visit
Mouse Grows, Mouse Learns
for more children's book suggestions.