Every week
Mouse Grows, Mouse Learns
hosts
What My Child Is Reading
. It's a chance to share the books that our kids love and have been reading for the past week.
This week, we've been reading books with a Thanksgiving theme. My daughter likes the first book the most, my son likes the second.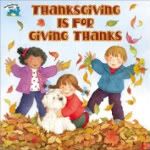 Thanksgiving Is for Giving Thanks by Margaret Sutherland
is a really fun book about being thankful for the people and things in our lives. The kids in the book are thankful for their family, their friends, for sunny days, for their books, for their rooms, and more. It has been a fun book around here this week because when we finish reading it my kids are inspired to start listing the things they are thankful for too.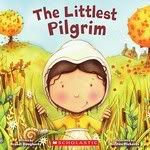 The Littlest Pilgrim by Brandi Dougherty
isn't really a Thanksgiving book beyond that the main characters are pilgrims. It is, however, a fun book for this time of year. Mini is the littlest pilgrim who just wants to be helpful, but everyone things she is too small to help, or they are too busy to notice that she is trying to help. In the end, she isn't too little to make friends with a Native American girl who is just as small as she is.
*****************************

That's what my kids have been reading this week. Visit
Mouse Grows, Mouse Learns
for more children's book suggestions.