Every week
Mouse Grows, Mouse Learns
hosts
What My Child Is Reading
. It's a chance to share the books that our kids love and have been reading for the past week. This week I'm featuring the train books that we can't live without. I would have featured these books earlier, but I had to upload pictures of the covers because they aren't readily available online.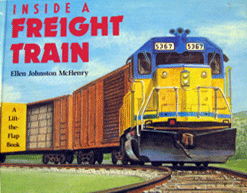 Inside a Freight Train by Ellen Johnston McHenry
is an out-of-print lift-the-flap book I picked up at our favorite used bookstore. It was published in 1993, and boy do my kids love it! It explores the different kinds of freight cars on a freight train, and each page has flaps that let you see inside the cars. I think the stock car page is their favorite, because there are cows and pigs under the flaps. This book is great--I'm so glad I found it! I'm actually considering ordering another online to replace this one when the flaps get too beat up!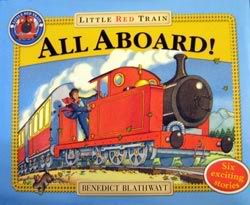 We received
Little Red Train: All Aboard! by Benedict Blathwayt
as a gift last Christmas. It is a collection of 6 Little Red Train stories in one volume, and it is one of MY favorite books to read with the kids.The pictures are wonderfully detailed and the stories are so much fun to read! My two favorite stories in the collection are "Green Light for the Little Red Train" and "Little Red Train's Race To The Finish." In the Green Light story, my son loves it when Duffy (the engineer) tells the impatient freight train honking its horn at them "Oh, nuts and bolts to you!" He always gets a good hearty laugh out of that one. I like looking at all of the wonderful things in the background and foreground of the action in the pictures--I always seem to find something new. I just can't say enough about this series.
*****************************

That's what my kids have been reading this week. Visit
Mouse Grows, Mouse Learns
for more children's book suggestions.