I have wish lists at both
Paperback Swap
and
BookMooch
, and am always adding new books to them. So, I'm going to feature a book (or two) each week on Wednesdays that I'm wishing for. You are welcome to join in on the fun!
I'm a day late this week because I wanted to feature a book review in honor of Veteran's day yesterday. :-)
I looked down my wish list this week and found a couple of books on it that had one thing in common: pirates!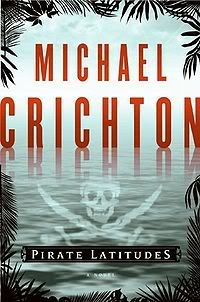 First, a book that is being released in the US on November 24,
Pirate Latitudes by Michael Crichton
.
Here's the plot summary (from the
author's website
):
The Caribbean, 1665. A remote colony of the English crown, the island of Jamaica holds out against the vast supremacy of the Spanish empire. Devoid of London's luxuries, Port Royal, its capital, is a cutthroat town of taverns, grog shops, and bawdy houses. In this steamy climate, life can end swiftly by dysentery — or dagger. But for a daring soul like Captain Edward Hunter, this wild outpost in the New World can also lead to great fortune, if he abides by the island's code. In the name of His Majesty King Charles II of England, gold in Spanish hands is gold for the taking and the law of the land rests with those ruthless enough to make it.
Word in port is that the Spanish galleon El Trinidad, fresh from New Spain, is awaiting repairs in nearby Matanceros. Heavily fortified, the impregnable Spanish harbor is guarded by the bloodthirsty Cazalla, a favorite commander of King Philip IV. With the Jamaican governor's backing, Hunter assembles a crew of ruffians to infiltrate the enemy island and commandeer the galleon and its fortune in Spanish gold. The raid is as perilous as the bloodiest tales of Matanceros legend, and Hunter will lose more than one man before he makes it onto the island's shores, where dense jungle and the firepower of Spanish infantry stand between him and the treasure.
With the help of his cunning band, Hunter hijacks El Trinidad and escapes the deadly clutches of Cazalla, leaving plenty of carnage in his wake. But the danger — and adventure — are only just beginning. . .
Sounds exciting! And I'm also interested because it is Michael Crichton's last book--he passed away a year ago.
Click here to view the book trailer.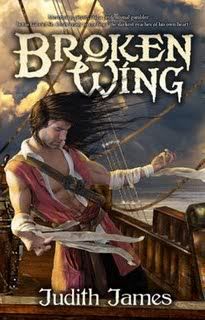 The other book on my wish list is
Broken Wing by Judith James
. It's a historical romance, and even though I'm not a huge fan of romance, if the story is good enough I'll pick one up from time to time.
Plot summary (from
author's website
):
Abandoned as a child and raised in a brothel, Gabriel St. Croix has never known tenderness, friendship or affection. Although fluent in sex, he knows nothing of love. Lost and alone inside a nightmare world, all he's ever wanted was companionship and a place to belong. Hiding physical and emotional scars behind an icy façade, his only relationship is with a young boy he has spent the last five years protecting from the brutal reality of their environment. But all that is about to change. The boy's family has found him, and they are coming to take him home.
Sarah Munroe blames herself for her brother's disappearance. When he's located, safe and unharmed despite where he as been living. Sarah vows to help the man who rescued and protected him in any way she can. With loving patience she helps Gabriel face his demons and teaches him to trust in friendship and love. But when the past catches up with him, Gabriel must face it on his own.
Becoming a mercenary, pirate and a professional gambler, Gabriel travels to London, France, and the Barbary Coast in a desperate attempt to find Sarah again and all he knows of love. On the way, however, he will discover the most dangerous journey, and the greatest gamble of all, is within the darkest reaches of his own heart.
Also, I just discovered this week that there is a similar bookish meme hosted on Wednesdays by
The Bluestocking Guide
, called Wishful Wednesday. So, if you're curious what other bookworms are wishing for this Wednesday, go check it out.
~~~~~~~~~~~~~~~~~~~~~~~~~
Yarr, that's what I be wishin' fur this week. What be you wishin' fur?