I have wish lists at both
Paperback Swap
and
BookMooch
, and am always adding new books to them. So, I'm going to feature a book (or two) each week on Wednesdays that I'm wishing for. You are welcome to join in on the fun!
I am admittedly a fan of Jane Austen (I have a huge volume that contains all of her books in one, and I've read them all more than once). Over the past year or so, I have started picking up books inspired by Jane Austen or spin-offs of Jane Austen's storylines. The two books I'm wishing for this Wednesday fit that description.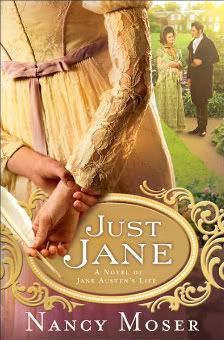 Just Jane: A Novel of Jane Austen's Life by Nancy Moser
was featured in an ad in the back of
Lady of Milkweed Manor

by Julie Klassen
. It sounds like something I might enjoy.
Synopsis:
"Pride and Prejudice, Sense and Sensibility, Emma...these titles conjure up a romantic world of rolling English countrysides, elegant balls, noble gentlemen, and headstrong gentlemen's daughters. But how much do we know about the woman who immortalized those times and names like Mr. Darcy and Miss Elizabeth Bennett? Growing up in a clergyman's home gave Jane Austen opportunities to watch human nature at its best--and worst. Drawing from historical sources as well as her own keen imagination, Christy Award-winner Nancy Moser transports readers inside the life and times of the literary world's most beloved heroine. Known for her moving and unique Mozart's Sister, Nancy Moser brings to life the mind and wit of Jane Austen--the loves, disappointments, and victories that shaped the novels that have remained popular for nearly two hundred years."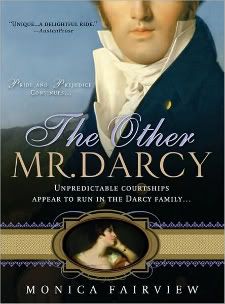 "Did you know Mr. Darcy had an American cousin?"
I've been watching
The Other Mr. Darcy by Monica Fairview
make the rounds in the blogosphere and so want to get my hands on a copy! I may have to drive myself to the closest bookstore and buy a copy to satiate my book desire.
Synopsis:
"In this highly original Pride and Prejudice sequel by British author Monica Fairview, Caroline Bingley is our heroine. Caroline is sincerely broken-hearted when Mr. Darcy marries Lizzy Bennet— that is, until she meets his charming and sympathetic American cousin…

Mr. Robert Darcy is as charming as Mr. Fitzwilliam Darcy is proud, and he is stunned to find the beautiful Caroline weeping at his cousin's wedding. Such depth of love, he thinks, is rare and precious. For him, it's nearly love at first sight. But these British can be so haughty and off-putting. How can he let the young lady, who was understandably mortified to be discovered in such a vulnerable moment, know how much he feels for and sympathizes with her?"
So, that's what I'm wishing for this week. What's on your wishlist?