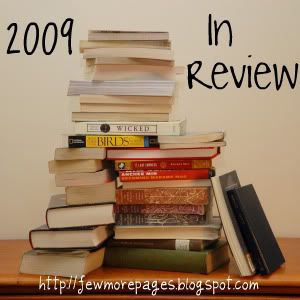 I was going to include this as part of one big "2009 In Review" post, but I decided to write up a separate post on the reading challenges, and include a list of the challenges I'm starting on January 1.
This year was the first time I have ever participated in a reading challenge, and I ended up participating in five challenges by the end of 2009.
My first one was the
Historical Fiction Reading Challenge
at the
Paperback Swap
forums. I read 13 books in a variety of categories, and finished the challenge in September.
I also completed the
1st in a Series Challenge
(12 books that are series starters) at the end of November, and read three novellas for the
November Novella Challenge
.
My last challenge completed in 2009 was the
Holiday Reading Challenge
, which I read and reviewed three holiday-themed books for.
I failed to complete the
2nds Challenge
, completing only 11 of the 12 books required for the challenge.
~~2010 Challenges~~

I have already signed up for TEN reading challenges that run during 2010. Here's a list (all run from January 1-December 31 2010 unless otherwise specified):
All links above go to my challenge posts.
I should also mention that I plan to participate in the quarterly
5 Minutes for Books Classics Bookclub
event as well, which will help me to focus on reading some of the classics in my TBR pile this year.
Before you laugh at me for being a crazy person, I should note that most of these challenges allow books to count in multiple challenges. For example, some of my thriller & suspense reads will be historical mysteries, and will count in both challenges. I'm kind of excited about the challenges--here's hoping I have an even better reading year in 2010!