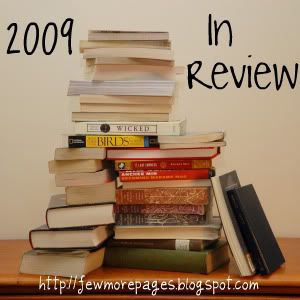 What kind of blogger would I be if I didn't reflect on the fantastic books I was able to read over the past year? I've only been blogging since August, but I've kept track of
everything I've read this year
(except the childrens' books). So I went through my list and gathered some interesting data from it and picked out some of my favorite reads. This will probably be my longest post ever. LOL!
Total number of books read in 2009: 55
Total number of pages read in 2009: 21,606
Most-read genre: Historical Fiction (30)
Other genres: Mystery/Suspense (11), Fantasy (9), Non-fiction (5)
--there is some overlap because some were historical mysteries and I counted them as both hist-fic and mystery.
~~Historical Fiction Is My Friend
~~
I read mostly Historical Fiction this year, so it's only fair that I list my four favorites in that genre this year, in no particular order:
I loved
The Rose Legacy by Kristen Heitzmann (click for my review)
, which I read in November. Amazon blurb:
Driven by hope and vengeance, Carina Maria DiGratia leaves her idyllic home in Sonoma, California, for a new life in the mining town of Crystal, Colorado. Though the town has a rough element, Carina is determined that it is the place her dreams will come true. Early on, two men vie for her trust, but neither is what he seems. Will Carina discern the truth in time to prevent tragedy?
I also became a fan of J.M. Hochstetler this year, and my favorite of her books that I have read was
Wind of the Spirit
(click for my review)
.
Publisher blurb:
The fateful confrontation between the untried Continental Army under General George Washington and an overwhelming invasion force commanded by British General William Howe explodes at the Battle of Brooklyn. With the patriot cause on the brink of ruin, Elizabeth Howard scrambles for critical intelligence—and her life. Meanwhile, far out on the western borders, Brigadier General Jonathan Carleton, as the Shawnee war chief White Eagle, succeeds in driving white settlers from Ohio territory through a series of lightning raids. At the same time Blue Sky's seductive charms and the rapidly escalating conflict with Wolfslayer force White Eagle to walk a treacherous tightrope between the beautiful widow and the shaman. As the British close in on Carleton's whereabouts, and with Washington poised to make a desperate, last-ditch gamble to save the American cause at Trenton, Elizabeth rejoins Colonel Charles Andrews on a desperate journey to find Carleton before his enemies can execute him for treason. Can her love bridge the miles that separate them—and the savage bonds that threaten to tear him forever from her arms?
Another book that really stood out in my mind this year was
The Winthrop Woman

by Anya Seaton
. I read it over the summer and did not write a review of it on this blog. But I thought this novel was fantastic. It was rich in detail and I found it immensely interesting. Elizabeth Winthrop is a fascinating character, and the historical detail is outstanding throughout the book. I can't wait to read another book by Anya Seton. PBS blurb:
First published in 1958 and set in the early 17th century, this bestselling novel— and follow-up to Katherine— follows Elizabeth Winthrop, a courageous Puritan woman who finds herself at odds with her heritage and surroundings. A real historical figure, Elizabeth married into the family of Governor John Winthrop of the Massachusetts Bay Colony. In those times of hardship, famine, and Indian attacks, many believed that the only way to prosper was through the strong, bigoted, and theocratic government that John Winthrop favored. Defying the government and her family, Elizabeth befriends famous heretic Anne Hutchinson, challenges an army captain, and dares to love as her heart commanded. Through Elizabeth's three marriages, struggles with her passionate beliefs, and countless rebellions, a powerful tale of fortitude, humiliation, and ultimate triumph shines through.
Julie Klassen was a new-to-me author this year, and her novel
The Apothecary's Daughter
was another of my favorite reads this year. I adored this book, I think partly because it reminded me so much of reading Jane Austen, whose books I love. PBS blurb:
Lillian Haswell, brilliant daughter of the local apothecary, yearns for more adventure and experience than life in her father's shop and their small village provides. She also longs to know the truth behind her mother's disappearance, which villagers whisper about but her father refuses to discuss. Opportunity comes when a distant aunt offers to educate her as a lady in London. Exposed to fashionable society and romance--as well as clues about her mother--Lilly is torn when she is summoned back to her ailing father's bedside. Women are forbidden to work as apothecaries, so to save the family legacy, Lilly will have to make it appear as if her father is still making all the diagnoses and decisions. But the suspicious eyes of a scholarly physician and a competing apothecary are upon her. As they vie for village prominence, three men also vie for Lilly's heart.
I started or read books from several series this year, including the first three books from
Naomi Novik's Temeraire series
, an alternative history/fantasy series set during the Napoleonic Wars that includes dragons! Starting with
His Majesty's Dragon
, it's one of my favorite series finds of the year. I've got book 4,
Empire of Ivory
on my TBR pile for 2010.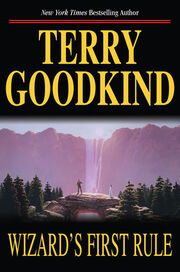 The author I read the most of this year was Terry Goodkind--I read the first four books in his
Sword of Truth series
earlier this year. I really liked the series at first (the first book is
Wizard's First Rule
), but started getting burned out during the fourth book. I'm still planning to read the next book in the series,
Soul of the Fire
, but I'm not sure that this series is keeping my interest anymore. The storyline of the two characters in love being kept apart by evil happenings is starting to get old. But I really like the characters, especially Kahlan. A strong, independent female character is always a good thing.
I also enjoyed a couple of cozy mystery series this year, including a couple of books in Rett MacPherson's fantastic
Torie O'Shea mysteries
(a fun series centering around a nosy genealogist/local historian) and the first two books in
Dianne Day's Fremont Jones series
(set in early 1900s San Francisco).
~~2009 Finds Worth Mentioning~~
The book that surprised me the most this year was
A Christmas Carol by Charles Dickens
(click for review). It was a classic that I had never read, but one that easily became one of my favorite reads for the year.
My favorite author find this year was Julie Klassen, author of
The Apothecary's Daughter
and
Lady of Milkweed Manor
. Both books were outstanding, and I am eagerly waiting for her newest book,
The Silent Governess
, which is coming out in January.
Austen-inspired books were another trend that I was surprised to enjoy. I read three Austen-inspired books in 2009:
Confessions of a Jane Austen Addict

by Laurie Viera Rigler
,
Austenland: A Novel

by Shannon Hale
, and
Jane Austen Ruined My Life

by Beth Patillo
. I enjoyed them all, but I think
Jane Austen Ruined My Life
was my favorite of the three. I read them all over the summer and have not reviewed them on this blog.
So, that's what I read in 2009. I'm hoping to have an even better reading year in 2010, which seems probable with all of the wonderful books I've found on book blogs over the past few months. My TBR pile has grown substantially and my wishlist has grown ever longer. Stay tuned for a post later today on my 2009 Reading Challenges and a summary of what I've signed on for in 2010!
Wishing everyone a wonderful year of reading in 2010!