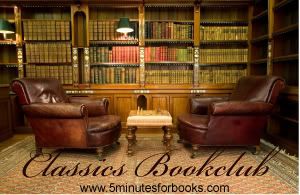 I know I said I was done signing up for reading challenges, and I am. This is not a reading challenge--it's an event!
5 Minutes For Books
is updating their
Classics Bookclub
and since I've been planning on reading more classics in 2010, I thought this might be a good way for me to stay focused. Here are the details from the sign-up post:
We are going to reduce the frequency to quarterly — meeting up here on the 5th Tuesday of the month. Each quarter you can link up your reviews and thoughts of the classics that we've read over the previous quarter.
You pick the books you want to read, you pick when you want to read them, and you pick how many you'll read.
It's my hope that even though we aren't reading the same book, we'll still build a community of classics-lovers. If someone posts a review of a book you've read, go over and comment and join in the discussion, just as if we were holding a regular "bookclub chat." I also think that by doing it this way, we'll find books that we want to add to our list, or read reviews that will convince us that we can finally take a book that we thought we really should be read off that list for good.
I think this is a fantastic idea, and am looking forward to participating. Here is a list of some of the classics I've picked up for the coming year and have waiting for me on my TBR pile:
Oliver Twist by Charles Dickens

Little Dorrit by Charles Dickens

Jane Eyre by Charlotte Bronte

The Portrait of a Lady by Henry James
This is what I have so far, and hopefully I'll pick up a few more. I've been wanting to pick up
Fahrenheit 451
by Ray Bradbury too--maybe I'll get to that one this year too. All are books I have not read before--a bit of an embarrassing admission, but it's true.