This week, I'm wishing for a book that Amy recently
reviewed at her blog, My Friend Amy
.
The Fiddler's Gun
by A.S. Peterson is independently published and is only available through
The Rabbit Room website
. It sounds like a fantastic read, and the cover is just gorgeous!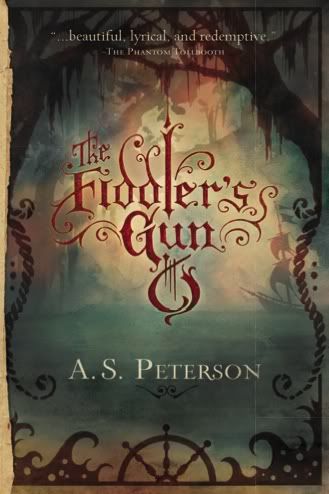 Book Description:
Revolution. Secrets. An Unforgettable Adventure.
America is on the brink of war with England, and Fin Button is about to come undone. She's had it with the dull life of the orphanage, and she's ready to marry Peter and get away from rules, chores, and a life looked after by the ever-watchful Sister Hilde. But an unexpected friendship forms between Fin and the fiddle-playing cook, Bartimaeus, which sets her on a course for revolution.
With Bart's beloved fiddle and haunting blunderbuss as her only possessions, Fin discovers her first taste of freedom as a sailor aboard the Rattlesnake. She's hiding some dark secrets, but there are bigger problems for the crew—they are on the run from the Royal Navy, and whispers of mutiny are turning the captain into a tyrant.
When Fin finally returns home, will she find Peter still waiting, or will she find that she's lost everything she once held dear?
So, what are you wishing for this week?
To find out what other bookworms are wishing for this Wednesday, visit Wishful Wednesday, hosted by
The Bluestocking Guide
. Also check out the
On My Wishlist
meme at
Book Chick City
.