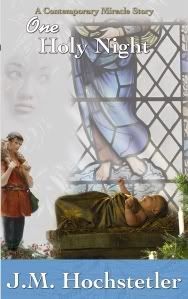 One Holy Night

by J.M. Hochstetler
is the third book I've read by
Joan Hochstetler
in the last two months, and for good reason. I've been really enjoying her work.
One Holy Night
is a contemporary Christian fiction novel set during the Vietnam War. It is also what you could consider a Christmas-themed book, since the main climax of the story happens on Christmas Eve.
The McRae family is facing a lot of tough times. Maggie is fighting ovarian cancer, her son Mike has been shipped off to fight in the Vietnam War, and her husband Frank is still wrestling with old hurts and prejudices caused by his experiences during World War II. Daughter Julie and her minister husband Dan try hard to keep things together, but when the family faces new and unexpected challenges and losses, it seems like more than the family can take. But on Christmas Eve, a miracle baby pulls the family back together once more, and helps bring them closer to God and to find forgiveness and healing.
This was a wonderfully moving and inspirational story. It takes place over the term of a year, and it deals with a lot of difficult topics--grief, post-traumatic stress disorder, war, cancer, prejudice, drug addiction, and faith are all covered. I was moved to tears a couple of times by the heartwrenching events in this book, and by the glorious transformations that several of the characters undergo in the process. This is a book about faith in God and how He can bring peace, forgiveness, and healing to those who seek it. Somewhere in the middle it got a little bit preachy, but the characters doing the preaching were a preacher and his wife, so it wasn't out of character and it wasn't overwhelming. In fact, I really enjoyed those characters because of their loving and forgiving attitude with people who had hurt them--their attitudes were a lot less judgmental (and refreshing!) than I am used to in real life. I wish more of us could be so forgiving and compassionate.
I thought this was a fantastic holiday read, but it would also be a great read any day of the year.
Rating: ★★★★ 4/5 stars - I really liked it!
**I won this book in a giveaway at
The Book Connection
. Thank you Cheryl!**
This was the second book I have read for the
Holiday Reading Challenge
. For more great holiday reads, check out the
challenge review page
.