Every week
Mouse Grows, Mouse Learns
hosts
What My Child Is Reading
. It's a chance to share the books that our kids love and have been reading over the past week.
We picked up
Daniel's Dinosaurs by Mary Carmine
this week at our local used bookstore and my daughter has really been enjoying it. Daniel loves dinosaurs. He reads about them, he writes about them, he draws pictures of them, and he imagines that he is surrounded by them in his everyday life. But then his mother takes him to the aquarium to see the sharks, and a new obsession is born. It's a cute story, with great pictures.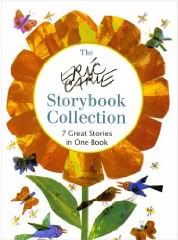 The Eric Carle Storybook Collection
includes seven great stories: "The Tiny Seed," "Pancakes, Pancakes!," "The Mountain That Loved A Bird," "Walter The Baker," "A House for Hermit Crab," "The Greedy Python," and "Rooster's Off to See the World." My 4-year-old son is really liking "A House for Hermit Crab" and "The Tiny Seed." I personally like "Pancakes, Pancakes!" Some of the stories are quite long, which I didn't expect (and which don't hold my 2-year-old's attention very well), but they are interesting and illustrated in Carle's unique way. "The Tiny Seed" actually explains the way seeds are dispersed and grow--it's quite an educational read.
*****************************

That's what my kids have been reading this week. Visit
Mouse Grows, Mouse Learns
for more children's book suggestions.