NPR ran a special "
Best Books of 2009
" series this month and it featured
The Supergirls: Fashion, Feminism, Fantasy, and the History of Comic Book Heroines by Mike Madrid
as one of the "
Best Five Books to Share With Your Friends
." This book promptly went onto my wishlist. I think it would be a great nonfiction choice for the
Women Unbound Reading Challenge
.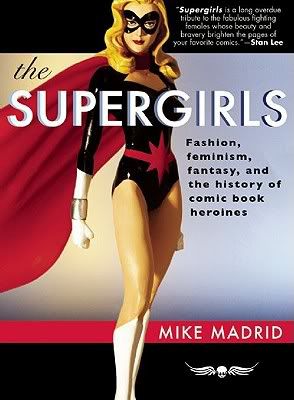 Book Description:
A much-needed alternative history of American comic book superheroines—from Wonder Woman to Supergirl and beyond—where they fit in popular culture and why, and what these crime-fighting females say about the role of women in American society from their creation to now, and into the future.

The Supergirls is an entertaining and informative look at these modern-day icons, exploring how superheroines fare in American comics, and what it means for the culture when they do everything the superhero does, but in thongs and high heels.

Has Wonder Woman hit the comic book glass ceiling? Is that the one opposition that even her Amazonian strength can't defeat?
So, what are you wishing for this week?
To find out what other bookworms are wishing for this Wednesday, visit Wishful Wednesday, hosted by
The Bluestocking Guide
. Also check out the
On My Wishlist
meme at
Book Chick City
.