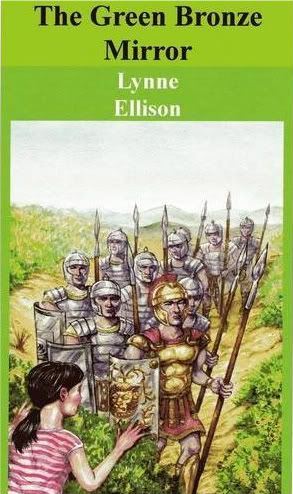 The Green Bronze Mirror by Lynne Ellison
is a new reprint with new illustrations of a Young Adult title first published in 1966 that involves time travel and the Roman Empire. Fifteen-year-old Karen is exploring the beach when she discovers an old mirror in the sand. When she looks into it, it transports her backwards in time 2000 years to Nero's reign in Rome. Mistaken for a slave, she is sold and resold, put to work, and transported from Britain to Rome. She meets a slave boy named Kleon and they become very close. She witnesses the horror of gladiatorial games, joins a secret group of Christians, and escapes persecution by Nero after Rome burns. Eventually she finds her way back to Britain and is able to return to her own time.
This book is full of action and interesting historical atmosphere. It was overall an enjoyable read. But there are a lot of typographical and formatting errors throughout it, and that really detracts from the story. Words are missing in places or are misspelled, paragraphs are sometimes double-indented or not indented at all, and part of the book is aligned left while the other part is justified. I don't mean for this to sound nit-picky because I can usually overlook minor copy-editing problems, but this book is in need of a more thorough editing job.
To a certain extent I had a hard time accepting Karen's easy adjustment to Roman life, but I think younger readers probably won't notice it as much. The characters are also not as developed as I'd hope for--I especially wish Kleon's character had been a bit more fleshed out and that there had been a bit more build-up for their budding romance (which consisted solely of hand-holding, hugs, and a few kisses--not steamy at all). Kleon's easy conversion to Christianity was also a bit too simply explained. This was a quick and charming read if you can overlook the editing and format problems. I think it would be for younger YA readers--perhaps middle schoolers.
Rating: 2.5 of 5 stars. It was a creative and fun read, but better editing would have been a big help.
~~More Reviews~~
Arleigh at Historical-fiction.com hosted a
guest post by the author
and
reviewed the book
as well. You can also find reviews of this book at
Library of Clean Reads
and
Charlotte's Library
.
**Thank you to the publisher,
CNPosner Books
, for providing me with a complimentary copy of this book for review.**