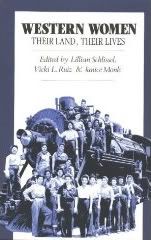 Since I'm super busy with teaching right now, I'm going to go academic on you today. I read this book in grad school (2001). These were my thoughts at the time. I apologize if you think this kind of thing is boring, but I also kind of hope someone will find it interesting and/or useful.

The essays examine various topics of women's history in the Western United States (including domestic ideology, family, employment, marriage, legal rights, and historic sites) from various points of view (American Indian, Anglo, Mexicana, Chicana, and Metis). Each essay is followed by short commentaries responding to the issues raised by the author. The result is an interesting dialogue concerning what was then current research on western women and what questions future research should examine.

The book begins with an article by
Robert Griswold
that examines Anglo women and the development of a variant of domestic ideology in the West. He utilizes divorce court documents to illustrate his argument that marital tensions "often developed because men did not meet women's expectations of appropriate male behavior, expectations shaped largely by corollaries of domestic ideology" (28). In the commentary,
Katherine Jensen
points out the need to examine other women besides middle-class migrants (like second generation Anglo women, prostitutes, and single women) to determine if their ideal of domesticity was similar, and
Richard Griswold del Castillo
compares Griswold's study with his own study of Mexican women. This is just an example of the useful discussion this book brings out. Also valuable is
Sandra L. Myres
's article, "Victoria's Daughters: English-Speaking Women on Nineteenth Century Frontiers," in which she compares the frontier experiences of women in the American West, Canada, New Zealand, and Australia. The last article, "Beyond John Wayne: Using Historic Sites to Interpret Western Women's History," by
Heather Huyck
, also provides a fascinating discourse on the need for historic sites to interpret women's history, and ways in which it can be done.
Western Women: Their Land, Their Lives is an important and interesting collection of essays on the diverse history of western women. While each essay examines a different topic, the general theme of the book focuses on the multicultural environment of the American West. It also challenges the traditional views of the West as a virgin land that planted the seeds of self-reliance, democracy, and individualism in the United States. Professional historians disagreed on the value of the book: some believed it to be a valuable, well-balanced anthology providing an insightful "sampler" of work being done in western history, while others thought the essays were dated and divided into ill-defined sections. In my opinion, the book provides useful insight on the research that had been done up to that point and the questions that were being asked in the study of western women. Ultimately, they prove useful to anyone interested, yet unfamiliar with this area of study.

Here are the citations of a couple of reviews of this book published in peer-reviewed journals:

Journal of American History 76:3 (Dec. 1989), 900. (Glenda Riley, University of Northern Iowa)
Western Historical Quarterly 21:1 (Feb. 1990), 72. (Sandra Schackel, Boise State University)
**Source: I checked this book out from the university library.