I have been so kindly given a few awards over the past couple of weeks and I wanted to recognize the wonderful bloggers who gave them to me and pass them on to a few more wonderful bloggers in the process. :)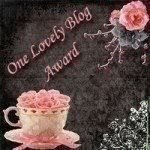 I was awarded the "One Lovely Blog Award" earlier this month from two bloggers I think are definitely lovely themselves: Helen at
Helen's Book Blog
and Cathy at
WordVessel.
The rules call for me to give the award to 15 other bloggers that I've newly discovered, but since I
received this award in October
I'm going to cheat and make it 15 bloggers
or less
. In no particular order, here are some great blogs that I've recently discovered and added to my Google Reader: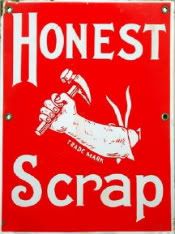 Nicole at
Books, Books Everywhere
(I love the name of her blog!) also presented me with the "Honest Scrap" Award. The rules call for me to list ten honest things about myself (I'll try not to repeat the ten I gave in
November
) and to pass the award on to ten more bloggers.
Here are Ten Honest Things About Me:

I love blogs. I love reading other people's blogs, I love writing on my own blog, I love browsing through my Google Reader to see what has been posted.
My daughter is turning 3 years old on Tuesday! She is my youngest, and I'm so proud of her.

My favorite band of all time is the Beatles. I love their Sgt. Pepper's album.
I am really looking forward to our yearly camping trip already. We spend a couple of weeks every summer in our travel trailer--we are planning a trip to the Oregon coast this July.
My pile of books to be read has become more of a mountain. I am looking forward to this summer so I can read a lot more of them!
I have a green streak. We recycle paper, cans, glass, cardboard, plastic, etc. and I use cloth shopping bags at the grocery store.
My favorite food is pizza, with lots of toppings. Mostly veggies, but I also love ham or canadian bacon on it too.
My mom is my best friend and she comes to visit us every week.
Hubby got me a booklight for Christmas (so I wouldn't keep him up at night reading), and then complained that it was too bright when I tried to use it. LOL
I like rubber stamps! I enjoy stamping cards and envelopes with them. I just got a cute Thank You stamp that I have been using to make my own thank you cards.
And now, to pass this award on to ten more blogs (or less) that I enjoy for being interesting and honest:
Have a great day!