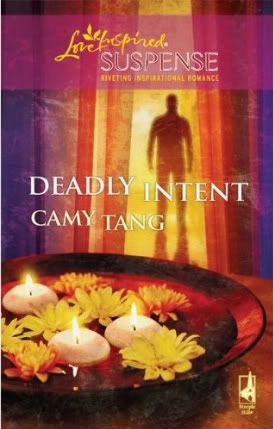 Deadly Intent
by
Camy Tang
Genre: Inspirational Romance, Suspense
Pages: 224
Publication Date: July 2009
Publisher:
Steeple Hill
Book Description:
The Grant family's exclusive Sonoma spa is a place for rest and relaxation--not murder! When Naomi Grant finds her client Jessica Ortiz bleeding to death in her massage room, everything falls apart. The salon's reputation is at stake...and so is Naomi's freedom when she discovers that she is one of the main suspects! Her only solace is found with the other suspect--Dr. Devon Knightley, the victim's ex-husband. But Devon is hiding secrets of his own. When they come to light, where can Naomi turn...and whom can she trust?
Deadly Intent
by
Camy Tang
is a fun mystery and romance all rolled into one. Naomi, a massage therapist currently managing her family's spa while her father recuperates from a stroke, finds herself the main suspect in the murder of one of her clients. The other suspect is her client's ex-husband and also the man who turns out to be the love interest in this book--Dr. Devon Knightley. As Naomi tries to figure out what happened, it becomes clear that someone is trying to frame her for the murder, and for several other incidents that occur afterwards. Naomi is never quite sure who she can trust, and the mystery of the killer's identity remains hidden right up until the end of the book.
I really enjoyed this book. It was a fast read, and Naomi is a great character. I was grinning as soon as I read the first line (
read about it here
). Her family is rather entertaining (especially her aunt, who is up-to-date on the latest gossip and news regarding the spa's clients). I liked that I could not figure out who the murderer was and what they were up to. But in the end I still never really understood
why
they were trying to frame Naomi. The relationship between Naomi and Devon seemed a bit quick to me at first, but once I reminded myself that they had been acquaintances for a few years it was more believable. Both of them have some spiritual struggles in this book, and they both find their faith strengthened in the end. These two would be a fun couple to follow-up on--their families were so different that there surely would be a lot of fireworks on the holidays!
**Thank you to Nora at
Finding Hope Through Fiction
! I won this book through a giveaway at her site!**
This book qualifies for the Thriller and Suspense Reading Challenge and the POC Reading Challenge.