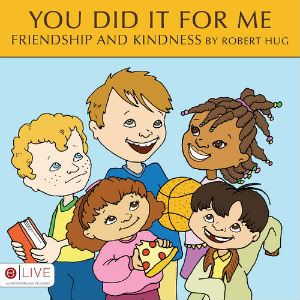 "...whatever you did for one of the least of these brothers of mine, you did for me." --Matthew 25:40 (NIV)

You Did It for Me: Friendship and Kindess by Robert Hug
is a children's picture book that focuses on Christ's words above, and encourages children to practice kindness to those who are in need. It's a rather heartwarming story, and shows the simple ways that being a friend can help brighten someone's day. My copy arrived with a nice introductory letter from the author, in which he states:
"The intention of the book is to promote the virtue of kindness, which is one of my favorite things. I wanted to explain kindness not by telling or preaching, but by using simple everyday examples of how small kindnesses can make a world of difference in the lives of others."

This is a cute book. It is simple, inexpensive, and has a good message that I hope my kids (ages 3 and 4.5) will take to heart. They seem to like it and have requested it several days in a row.The illustrations are colorful and cheerful, and I really appreciate the diversity of the children portrayed in the book. The target audience is children ages 4-8. The book also comes with a free audiobook download that is accessible online.
About the author:
Rob Hug lives near Denver, Colorado, with his wife, Dana, and their three children. Rob provides computer support to several small businesses as well as customer support for a company that protects businesses from spam. He has a degree in Computer Information Systems from Metropolitan State College of Denver as well as several computer certifications. he has been a professional "IT guy" for thirteen years and likes to write in his spare time.

For more information, visit the book's website at
http://www.youdiditforme.com/
**I was given a copy of this book in exchange for a review through
LibraryThing
Member Giveaways.**