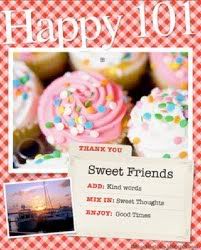 Thank you to my new friend
Amelia at Imagination in Focus
for this lovely award! I can smell the sugar in the frosting through my computer screen. Yummmmm.....
The rules for this Bliss (Happy 101) Award are that I must list 10 things that make me happy, then pass it along to 10 other bloggers.
Curling up with a good book.
Hugs from my kids.
When my husband makes dinner.
Being in a library or bookstore. Being surrounded by books makes me giddy.
Visiting my parents.
Pizza. With lots of veggies.
Going for a drive in our hometown.
Sitting outside in a hammock on a nice day.
The Olympics.
Shoes.
I'm happy to give this award to the following bloggers on my Blogger dashboard (yes, I DO read a very eclectic assortment of book blogs):