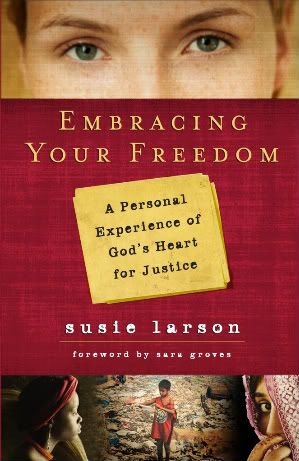 Embracing Your Freedom: A Personal Experience of God's Heart of Justice
by
Susie Larson
Genre: Christian Non-Fiction, Devotional
Pages: 288
Date of Publication: October 2009
Publisher: Moody Publishers
Book Description:
We cherish things such as comfort, security, control, and success. Yet, there are deeper rewards for those who take hold of God's promises and reach out in Jesus' name--rewards such as adventure, faith, miracles, and a deep knowledge of Jesus Christ.

In Embracing Your Freedom, author and speaker Susie Larson sets the stage for a first-hand experience of God's heart for personal freedom, for the plight of the suffering, and for a conviction to get involved with His work among those in need. With her skillful use of story, scriptural reflection, and thought-provoking questions, Susie will guide you toward opportunities to become an advocate for the freedoms of others.

When we live in bondage to our fears, insecurities, shame, guilt, despair, or sinful appetites, we live self-focused lives. But when we embrace our freedom in Christ, our hearts are released from captivity and we view everything around us--our relationships, resources, responsibilities, and opportunities--as tools to bring that same freedom to those who desperately need it.
This book is inspiring in many ways. As a devotional, you can work through this book one chapter at a time, and be finished in about a month (there are 24 chapters). It begins by challenging your own issues and fears, encouraging you to take back the freedom that Christ gives and put full trust in God to restore and strengthen you. Then, once you have been strengthened by God, you can really work toward helping others to find their freedom. Because, as Susie says, "We are hardly in a position to rescue others if only a slight breeze knocks us over. And if we have one foot in the world and one in the Kingdom, our spiritual footing will be too unstable to allow us to steady others" (158).
What I gained from the book is this: I need to stop being so wrapped up in the world, in my world, because it takes my focus away from where it should be. Focusing on my little world takes me away from focusing on the things God wants for me and for those who are in desperate need of freedom in this world. The most powerful section for me was section three: "Trusting God to be Big in Us." I think this section spoke most to me because I needed to hear it. I needed to be reminded to step out of my comfort zone and take risks for Him if that is what He wants from me. I needed to remember that sometimes I will go through difficult seasons in my life, but even in those difficult seasons He will walk with me and use those seasons for His and my good.
I did have a couple of minor quibbles with the book that distracted me from the main points. The first came when Susie recounts her son's back injury and how they began to pray thanking God for giving him a miracle of complete healing,
before
any healing took place (chapter 8). I struggled with this. I can understand what she is saying--that we need to have faith and trust that God can do anything we ask Him--but I also question the boldness of thanking Him for something that may not be part of His plan. I have complete faith that God can do anything, but what
we
want isn't always what is in His plan. We can ask for healing, but we should also be willing to accept His decision if physical healing is not part of His plan for us. That passage bothered me, as well as a statement later in the book that "He brings healing to sick and injured bodies" (247), this time in the context that "Jesus always makes things better than they were before." Again, I agree that He improves us in every way, but
physical
healing isn't always the result.
Anyway, I know that my quibbles were not a major portion of the book's argument and that Susie herself admits that "I don't understand why one person gets healed and another (despite active, faith-filled prayers) never gets better" (106). Her message was more about putting our faith and trust in God, but it was still something that took a lot of my attention and flustered me for a bit.
Once I got past my difficulty above, the book was thought-provoking and valuable for my own walk with God. It reinforced the passion that I have for justice here on earth, but also prodded me to find ways to do more about it and to get past my fears and stretch myself for His good, rather than focusing so hard on my own good. I'm not entirely sure where this stretching will take me, and it may take me a while to work up my courage to do so, but this book has helped push me in the right direction. With further prayer and trust in Him, I can hopefully grow past my fears and step out in faith.
If you'd like to read more about author Susie Larson, click
here
to visit her website, and
click here to read an interview with her at Divine Caroline
. You can also connect with her on Twitter (@
SusieLarson
). Susie Larson's
Embracing Your Freedom Virtual Book Tour
officially began on January 4th and will end on February 26th. You can visit Susie's blog stops at
www.virtualbooktours.wordpress.com
during the month of January and February to find out more about this great book and talented author.
To purchase the book, visit
Amazon
or an
independent bookseller
of your choice.

Source
: Special thanks to
Pump Up Your Book Promotion
for including me as a part of this tour and to the author for providing me with a review copy of the book.