This has got to be one of the prettier covers I've seen in a while. The storyline isn't really for me, but wow, what a cover. I love the look that the woman is giving you over her shoulder.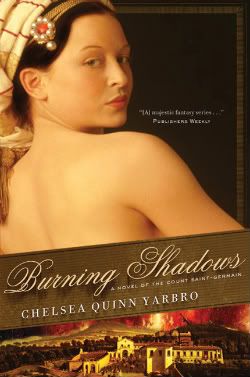 Burning Shadows by Chelsea Quinn Yarbro
Genre: Historical Fiction/Paranormal/Fantasy/Horror
Book Description:
Two decades strong, the Saint-Germain cycle is one of the most compelling works of dark fantasy and horror of our age. Historically accurate, these deeply emotional novels have a devoted readership.



In Burning Shadows, Yarbro looks at the legendary Huns from the perspective of the people who faced the brunt of their attacks. The vampire Saint-Germain seeks sanctuary at an isolated monastery, unwilling to abandon the hundreds of terrified villagers he has led in flight from the Huns. A few Roman soldiers and some village Watchmen are the monastery's defense force—and they are undermined by the religious fervor of some of the monks, who argue that since everyone's fate is in God's hands, it is foolish to defend themselves. In the hothouse atmosphere of the high-walled monastery, Saint-Germain must take special care when slaking his vampire thirst, for discovery of his True Nature will result in his True Death.
Eye Candy is a feature that was inspired by Marcia at
The Printed Page
and Daphne at
Tanzanite's Shelf and Stuff
, who often post about books with eye-catching covers.