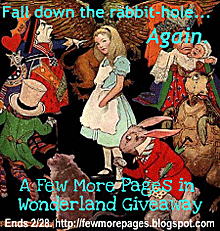 It's time for our first giveaway at A Few More Pages!
With Disney's new
Alice in Wonderland film
coming to theaters on
March 5
, along with the recent release of
Melanie Benjamin's
new historical fiction novel,
Alice I Have Been
, based on the life of the girl who inspired Lewis Carroll's classic children's stories, and the
upcoming DVD release
of the
SyFy mini-series Alice
on
March 2
, I just had to put an Alice-themed giveaway together to celebrate.
So, what can you win in this wondrous Wonderland Giveaway?
First, an Alice-themed giveaway could never be complete without a new copy of Lewis Carroll's classic
Alice's Adventures in Wonderland and Through the Looking-Glass
.
This edition
includes both of these stories, as well as an introduction, a note about film adaptations, critic commentary, and discussion questions. It is a fantastic edition and includes the original illustrations by John Tenniel.
Second, a gently-read ARC (Advance Reading Copy) of Melanie Benjamin's
Alice I Have Been
. This novel follows the life of Alice Liddell, the girl who inspired Lewis Carroll to write
Alice's Adventures in Wonderland.
Although it is a work of fiction, much of it is based on the actual events of Alice's life.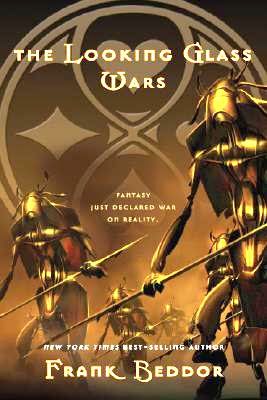 Third, a new copy of Frank Beddor's
Looking Glass Wars
, the first book in a young adult fantasy trilogy that imagines that
Alice's Adventures in Wonderland
and
Through the Looking-Glass
were fiction but that they were based on real events. The trilogy puts the classic story in a new and interesting light. This book spent several weeks on the
New York Times
bestseller list.
Finally, to help us celebrate this giveaway in grand fashion the wonderful ladies at
Padfoot and Prongs
are throwing a couple of Alice-themed bookmarks in as well! So the lucky winner will not only be receiving the three books above, but also two Alice in Wonderland bookmarks!
(Pssst! Their
Good Books Inc. Etsy shop
is also currently holding a
big sale on all Alice-themed items in their store
, and if you buy two Alice items you get a bookmark of your choice for free!)

All you have to do to enter the giveaway is comment here!
Please leave your email address in your comment if it's not available in your profile.
You can earn an extra entry in the giveaway by tweeting and/or posting about this giveaway and leaving the link here (You are free to use my button at the top of this post). Each person can tweet and post to their blog once for an entry. Any additional posts or tweets will not count as an entry.
Giveaway open to US/Canada residents only. Sorry international readers! International postage for a package this size was insane! :(
The giveaway will end on February 28 at 11:59 pm PST. The winner will be announced on March 1. I will e-mail the winner and that person will have 48 hours to respond. If no response is given, I will draw a new winner. Winner will be chosen randomly.

Disclosure: The two new books were purchased by me, the ARC was provided by the publisher for review, and the bookmarks are being donated by the Good Books, Inc. shop. I am not being compensated in any way for holding this giveaway. It's just something I wanted to do out of my fondness for Alice. :)