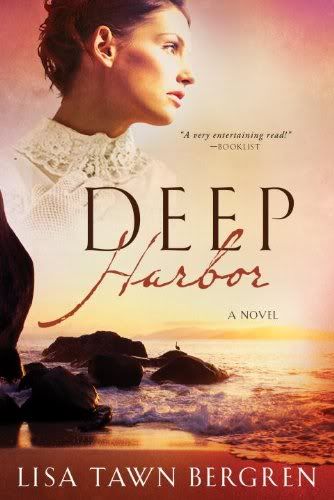 Deep Harbor
by
Lisa Tawn Bergren
(Book #2 of The Northern Lights Series)
Genre: Christian Historical Fiction, Family Saga
Pages: 363
Date Published: February 2010 reprint (first published in 1999)
Publisher:
Waterbrook Multnomah
Book Description:
As they build new lives in America, Tora, Elsa, Kaatje, and Karl each experience a personal tragedy that threatens to destroy everything they left Norway to find. Tora's web of lies has cost her a successful future with the man she loves. When tragedy strikes, Elsa must draw upon her faith and the strength she can muster to discover who she is and the path she must follow. After her husband's disappearance, Kaatje struggles to raise two young daughters and tend her farm, and Karl finds himself caught in a life of loneliness and emptiness. Only by placing their trust in God—and in each other—will they pass through these rough waters and find the safety of the harbor.
From the richly forested banks of the Washington Territory to the burgeoning city of Yokohama and across the turbulent, danger-filled waves of the open sea—experience the epic saga of perseverance, pain, faith, and calling in the Northern Lights series.
❦❦❦❦❦❦❦
This is a new reprint value edition released this month by
Waterbrook Multnomah
with new (lovely) cover art. I admit that I have not read the first book of this series, but this book reads well enough and provides enough background information that I didn't feel lost at all. In fact, instead of being frustrated by starting a book in the middle of a series, I am intrigued and ready to go out and buy the other books in this series (#1
The Captain's Bride
and #3
Midnight Sun
). Yes, it was
that good
.
Deep Harbor
covers a lot of ground (including Washington Territory, Hawaii, Japan, Montana, San Francisco, and Alaska) and focuses on four different main characters (Tora, Elsa, Karl, and Kaatje--all are related or close friends). At first I found it distracting to jump from one character in one part of the country to another in a different location, but once I started to see how they were all interconnected it didn't bother me at all. This book was remarkable. Each of the characters was so different and interesting, and each faces heartbreaking losses and soaring triumphs in the story. The stories of Elsa and Tora were especially moving. I don't want to go into too much detail, but Elsa's story made me cry (the mark of a very good book) and Tora's story was at first shocking and then deeply inspirational in showing just how big of a change God can make in a person's life.
This was a wonderful read. It was so easy to get into and the emotions and relationships of the characters felt real. The portions of the book that took place on the sea were exciting and detailed and the time period felt authentic. I definitely recommend it!
**This book was provided for review by the publisher,
Waterbrook Multnomah
as part of the Spring Value Fiction Blog Tour (for more information on my reviews, please view my
disclosure policy
).**