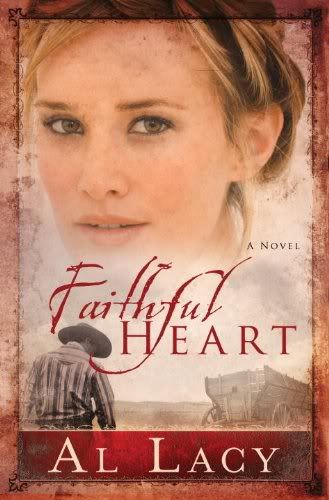 Faithful Heart
by
Al Lacy
(#2 of the Angel of Mercy Series)
Genre:
Christian Historical Fiction
Pages:
304
Publishing Date:
February 2010 - reprint (originally published in 1995)
Publisher:
Waterbrook Multnomah
Book Description:
FOR SOME SOLDIERS, THE BATTLE never ends.
Dottie Harper fears for her children's safety. Her husband, Jerrod, is struggling with dementia brought on by shell shock during the Civil War. It's as though there are two Jerrods locked inside him: the tender and loving Christian man she married, and a harsh man given to unpredictable fits of violent rage. Dottie loves her husband with all her heart, and with God's help, she'd determined to remain steadfast.
Dottie's sister, Breanna Baylor, is a certified medical nurse. She's headed west with a wagon train, planning to visit Dottie in California and meet her family for the first time. Along the way, Breanna meets up with wounded soldiers, contagious townspeople, and injured outlaws. Compassionate and highly skilled, she tends to their physical hurts and shares the gospel whenever she can. Litlle does she know that a life-or-death meeting awaits with her own brother-in-law.
Come alongside these two remarkable sisters, and rejoice in how God takes care of those with faithful hearts.
This is the second book in Al Lacy's ten-book Angel Of Mercy series. Set in the 1870s, the story travels between two main characters--Breanna Baylor and her sister Dottie Harper. Breanna spends most of the story on the way to see her sister in California, serving as a nurse (she has professional training in this job) for the wagon train she is traveling with. Dottie's story takes place in California and focuses on her husband Jerrod's deteriorating mental health and how his escalating violence has devastating results on Dottie and her children.
I had a very difficult time with the historical (in)accuracies of this novel. Yes, it is historical
fiction
, but I expect even fiction to be more historically accurate than this. The main problem lies in the medical terminology used in this book--and there is
a lot
of medical discussion because Breanna is a nurse and Dottie's husband Jerrod is suffering from psychological problems caused by his experiences in the Civil War. Unfortunately, although the author has done a lot of research on medical conditions and treatments, they don't always mesh with the time period. "Shell shock" is mentioned throughout the book as being the cause of Jerrod's problems. But the term "shell shock" was not adopted to refer to this problem until World War I--in the Civil War era it was called "soldier's heart" or "combat fatigue". After this, I found myself checking on other medical details in the book that seemed too modern to fit the time period. The other obvious (to me) inaccuracy happens when Breanna ties on a surgeon's mask. Surgeon's masks were
not really adopted until after 1899
, when the droplet theory of infection was developed. Are these important parts of the story? Perhaps. But they are inaccurate enough to bother me throughout the book.
Perhaps these inaccuracies will not bother other readers as much as they bother me. But the story in general just didn't grab me either. At times the romance between John Stranger and Breanna was a bit sappy (this is personal opinion, others might not see it that way). It also took a really long time for Breanna's story to intersect with Dottie's story. And I just could
not
identify with Dottie. She took way too long to take her children out of an extremely dangerous situation, because she was too concerned about Jerrod's psychological and emotional welfare. I could understand her reasoning if she had been afraid he would kill them if they left, but her reasoning was always that she was afraid it would destroy Jerrod's emotional/psychological healing and she wanted to help him get better. The violence done to the children in the book sickened me, and made me angry that this character would put herself and her children in such a position.
The ending has a frightening climax and struck me as an awfully convenient way to get Dottie out of her marriage and move her on to a new relationship. I just didn't like this book much at all. There was one portion of the story in which Dottie and Jerrod's doctor discuss the reasons why God does not always heal faithful Christians who ask Him for healing that I thought was really explained well. I did enjoy parts of the book, but the weak points were hard to power through.
I think I was probably also at a disadvantage because I didn't read the first book of this series (Angel of Mercy) or the other series that is related to Breanna's love interest, John Stranger (Journeys of the Stranger). I definitely felt like there was a big backstory that I had missed, so readers would be better off starting at the beginning of this series. Ultimately, I don't recommend this book unless you are an Al Lacy fan.
**This book was provided for review by the publisher,
Waterbrook Multnomah
as part of the Spring Value Fiction Blog Tour (for more information on my reviews, please view my
disclosure policy
).**