This week, I'm wishing for
The Mistletoe and Sword: A Story of Roman Britain by Anya Seton
. This reprint will be released on June 1, 2010. I am a recent fan of Ms. Seton, and haven't read this one yet. Plus, the cover is very eye-catching.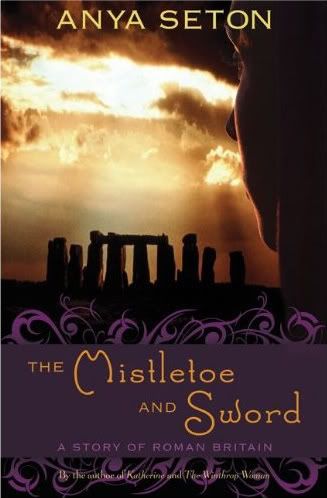 Book Summary:
Young Quintus Tullius, standard bearer with the Ninth Roman Legion serving in Britain, is ready to begin his quest for the bones of his great-grandfather who died 17 years before—bones that the Druids who haunt Stonehenge watch over. But first he falls in love with Regan, the beautiful and mystifying foster daughter of Boadicea, warrior queen of the Icenians and instigator of the historic, bloody rebellion of the British tribes against Rome. With its suspenseful battle scenes, its mysticism and romance, this absorbing tale makes ancient history excitingly contemporary.
To find out what other bookworms are wishing for this Wednesday, visit Wishful Wednesday, hosted by
The Bluestocking Guide
. Also check out the
On My Wishlist
meme at
Book Chick City
.
This also qualifies as a pre-publication "can't wait to read" selection, which is the subject of Jill's meme
Waiting On Wednesday
, at her blog
Breaking the Spine
. Visit her site to see what other upcoming books other readers are eagerly waiting for.