This week I am wishing for
The Sugar Queen by Sarah Addison Allen
. I read
Garden Spells
last year and thought it was a fun, whimsical read. I'm looking forward to reading more by this author.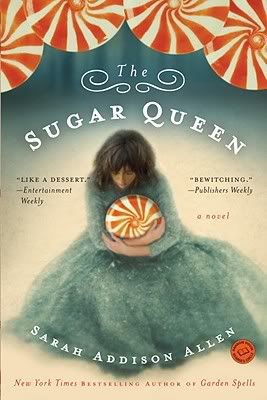 Book Summary:
Josey Cirinni is sure of three things: winter is her favorite season, she's a sorry excuse for a Southern belle, and her passion for the man she loves is best kept a secret, even from him. Josey has grudgingly settled into an uneventful life in her mother's house, but her one consolation is the secret stockpile of sugary treats and paperback romances she keeps in her closet. One morning, she opens her closet for a sweet, but finds Della Lee Baker hiding there instead. Della Lee is a local waitress on the run who is one part nemesis—and two parts fairy godmother. Under Della Lee's guidance, Josey is soon living in a world where the color red has startling powers, and passion is so real it can make eggs fry in their cartons. And that's just for starters.
So, what are you wishing for this week?
To find out what other bookworms are wishing for this Wednesday, visit Wishful Wednesday, hosted by
The Bluestocking Guide
. Also check out the
On My Wishlist
Saturday meme at
Book Chick City
.