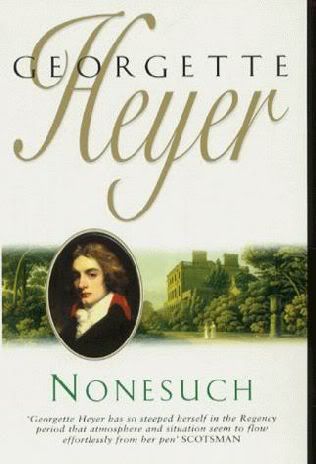 The Nonesuch
by
Georgette Heyer
Genre: Historical Fiction, Regency Romance
Pages: 393
Publication Date: 1962 (I read a 2000 reprint)
Source:
Paperback Swap
Book description:
Sir Waldo Hawkridge, wealthy, handsome, eligible, illustrious, and known as The Nonesuch for his athletic prowess, believes he is past the age of falling in love. But when he comes north to inspect his unusual inheritance at Broom Hall in the West Riding, his arrival leads to the most entertaining of ramifications.
I have been seeing Georgette Heyer around the blogosphere for a while now (many of her books are being re-issued with pretty new covers), and I've been meaning to give her a try. So, when I saw that the
Classics Circuit
had chosen Heyer for the month of March I took the opportunity to jump on board and finally read one of her books.
The Nonesuch
is my first Heyer book read, and it will not be my last. I now understand why her books are still popular after all of these years.
I will admit I had a bit of trouble getting drawn into the first 50 pages or so. Heyer tends to use a lot of period slang in this book, and that slang is more evident in the first 50 pages because it mainly consists of people having conversations. The conversations set up the action that occurs later in the book but they can be difficult to wade through. Here is an example of one of the parts that made me scratch my head:
Upon my word, Waldo, I wonder that you should bear with him as you do! Well, I was used to think him more flash than foolish, but after listening to his damned insolence today I think him the most buffleheaded clunch I ever saw in my life! If there's one person anybody but a sapskull would have taken precious care not to rub against, it's you! Good God, where does he think he'd be, if you was to abandon him? Don't tell me he hasn't cost you a small fortune, because I'm not a gapeseed! Why you didn't lose your temper and tell him he'd had his last groat from you I shall never know! (26)
I understand the context--that the person being called all of these terms I've never heard before is being criticized--but I had to sit back and re-read the page to make sure I wasn't missing something. The slang doesn't end at page 50, but I think it's a bit less enthusiastic and difficult to understand later on. The slang is the worst in heated conversations between the male characters. From what I've read in other reviews this month, this is a common feature of Heyer's novels.
I found myself laughing out loud at times near the end of the book. I couldn't help but laugh at Miss Trent's misunderstanding about Sir Waldo's "wretched brats"--though I was a bit uncomfortable with the terminology. And Tiffany--what a character. She was the most insufferable girl, so self-centered and oblivious to anyone else's needs or desires. As unrealistic as she seemed, I know there are people like her out there in the real world. I enjoyed the characters, even if they were a bit clichéd at times--you had the rich but grounded role model, the mooching cousin, the sweet yet overlooked minister's daughter, the beautiful but selfish popular girl, and the smart companion/governess who never meant to catch the eye of the rich man.
I can't even fathom the amount of research that the author must have done to be able to include so much period detail in her novels. I was impressed by the details she provided of the fashion, horsemanship, manners, and speech of the time. I now know why Heyer is considered the Queen of Regency Fiction. She practically pioneered the genre and did it with such excellence that it is no wonder her books have become classics.
So, to sum it up,
The Nonesuch
was hard for me to get into at first because of the period slang and lack of action, but by the end I was enchanted and looking forward to my next Heyer novel.
To learn more about Georgette Heyer,
check out the Classics Circuit page on her here (brief bio and list of books)
. To read more reviews of Heyer's books, check out the
March Classics Circuit schedule here
.