The first line can make or break a reader's interest. Just how well did the author pull you in to the story with their first sentence?
I am working on reading my first Georgette Heyer novel,
The Nonesuch.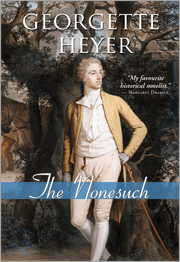 Here's the first line:
There was a twinkle in the Nonesuch's eye as he scanned the countenances of his assembled relations, but his voice was perfectly grave, even a trifle apologetic.
This first line has promise. The title character sounds like a charming, perhaps mischievous fellow in this first line. I'm only 88 pages into the book now, and although I've struggled a bit with some of the period slang Heyer has been using, I am enjoying the story so far.
Friday Firsts is hosted by Allison at Well-Read Reviews. For more information on how to participate in this weekly book meme, visit her site