to have such lovely and kind readers! I received several awards over the last few weeks and it's time for me to thank everyone and send them on to some more bloggers. I'm going to give them out to just a few people, since they're more special that way. :-)
…………………………………………………….
In January (ugh, I should have posted this one sooner!)
Mrs. Q: Book Addict
gave me the
Blogger Buddie Award
.
This award is given to top commenters on your blog. I'm giving the award to the following bloggers:
…………………………………………………….
Lori at
Some of My Favorite Books
gave me the
Fabulous Sugar Doll Blogger Award
at the end of February.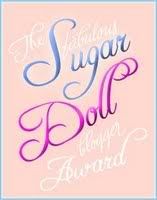 This award asks winners to list ten random things about themselves and pass it on to ten more bloggers.
I'll list ten random things about myself, but will only pass it on to four bloggers.
I have brown eyes, hubby has blue eyes, and both of my kids (ages 4 and 3) ended up with blue eyes.
We're thinking about moving back to our hometown. If this happens, I plan to apply to become a basketball coach at the (small) high school.
I love maple-topped donuts. Makes me drool just to think about it.
I've been an avid reader ever since I was a kid. When mom gave us the option of reading or taking a nap, I always read.
My first job at age 16 was river raft guide.Yep, I took people on whitewater rafting trips in the summer.
I got married at age 19. Our 12th anniversary is coming up in April.
Hubby cooks a lot, but he's a fireman so he gets lots of practice at work (I think he cooks better than I do).
We have a Lab-German Shepherd mix dog who turns 11 this year. She was our first child. :-D
My dad was a P.E. teacher, and he just retired last year. He was also my first basketball coach. His love for sports has greatly influenced my love for sports.
I'd like to pass this one on to:
…………………………………………………….
And thank you to
Daisy Mom at Gerbera Daisy Diaries
for giving me the
Prolific Blogger Award
! :) It's awesome!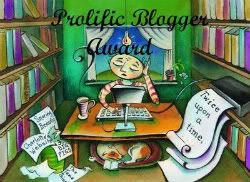 Here are the rules to passing along this award:
A Prolific Blogger is one who is intellectually productive... keeping up an active blog that is filled with enjoyable content.
Every winner of the Prolific Blogger Award has to pass on this award to at least seven other deserving prolific bloggers. Spread some love!
Each Prolific Blogger must link to the blog from which he/she has received the award.
Every Prolific Blogger must link back to this post, which explains the origins and motivation for the award.
Every Prolific Blogger must visit this post and add his/her name in the Mr. Linky, so that we all can get to know the other winners. (Click here for the Mr. Linky page.)
Since
I previously received this award
(in February), I'm going to accept it and pass it on to just a couple of blogs (less is more, right?).