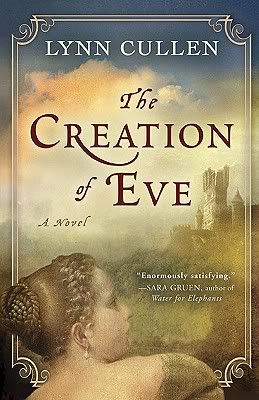 The Creation of Eve
by
Lynn Cullen
Genre: Historical Fiction
Pages: 400
Publication Date: March 23, 2010
Publisher: G.P. Putnam's Sons
Rating: 4 of 5 stars
Book Description:
The Creation of Eve is a novel based on the true but little-known story of Sofonisba Anguissola, the first renowned female artist of the Renaissance. After a scandal in Michelangelo's workshop, Sofi flees Italy and joins the Spanish court of King Felipe II to be a lady-in-waiting to his young bride. There she becomes embroiled in a love triangle involving the Queen, the King, and the King's illegitimate half brother, Don Juan. The Creation of Eve combines art, romance, and history from the Golden Age in Spain in a story that asks the question: Can you ever truly know another person's heart?
The Creation of Eve
is an interesting book of historical fiction that takes a vivid look into both the life of a female artist in the Renaissance and the interesting lives of the Spanish court under King Felipe II from 1559 to 1568. Sofonisba was a rare and well-known female artist during the Renaissance who got a chance to study under the great Michelangelo. Most of her art consists of portraits, but some of her most charming pieces were painted of her family. One of my favorites is "The Chess Game," painted in 1555, which portrays three of her sisters (the littlest sister has the cutest smile on her face).
It was so easy to be drawn into this artfully written novel that I had to remind myself that it was indeed fiction. Sofonisba is portrayed so realistically--mistakes and all--that I felt like I had gotten to know her personally. Ms. Cullen has obviously done a lot of research into both the life of Sofonisba and King Felipe II's family, and the Author's Note at the end of the novel is something that I absolutely
love
to see in a work of historical fiction. Her Note provides a short review of Sofonisba's life after the events portrayed in the novel, and explains what parts of the story are based on the historical record and what parts she has filled in with conjecture or fiction. I really appreciated having this reference so I could learn more about the real people behind the characters in the novel.
This is a lovely book about a fascinating woman. I know that the "scandal" in Michelangelo's workshop and the reasons for Sofonisba joining the Spanish court are fiction, but they were such a believable and painful series of events in the book. Sofonisba's position in the Spanish court and her relationships within it were also finely written, bringing these members of the royal family to life. I enjoyed every page.
If you are interested in viewing more of Sofonisba Anguissola's work,
click here to see a virtual collection of some of her paintings compiled by Texas A&M Professor Pat Phillippy
.
If you'd like to read more about author Lynn Cullen, click
here
to visit her website.
Click here to read Lynn's guest post about the challenges of writing historical fiction and time periods she has never personally experienced.
It's a great post, so I hope you have a chance to check it out!
Lynn Cullen's
Creation of Eve
Book Tour officially began on March 3 and will end on April 2. You can visit Lynn's blog stops at her
TLC Book Tours page
during the month of March to find out more about this great book and talented author.
To purchase the book, visit
The Book Depository
or an
independent bookseller
of your choice.
Source
: Thank you to
TLC Book Tours
for including me as a part of this tour and to the publisher for providing me with a review copy of the book.