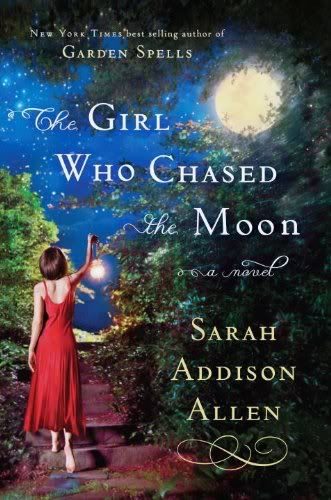 The Girl Who Chased the Moon
by
Sarah Addison Allen
Genre: Fiction with a twist of fantasy
Pages: 288
Publication Date: March 16, 2010
Publisher: Bantam Books
Book description:
Emily Benedict came to Mullaby, North Carolina, hoping to solve at least some of the riddles surrounding her mother's life. But the moment Emily enters the house where her mother grew up and meets the grandfather she never knew, she realizes that mysteries aren't solved in Mullaby, they're a way of life: Here are rooms where the wallpaper changes to suit your mood. Unexplained lights skip across the yard at midnight. And a neighbor, Julia Winterson, bakes hope in the form of cakes, offering them to satisfy the town's sweet tooth—but also in the hope of rekindling a love she fears might be lost forever. Can a hummingbird cake really bring back a lost love? Is there really a ghost dancing in Emily's backyard? The answers are never what you expect. But in this town of lovable misfits, the unexpected fits right in.
❦❦❦❦❦❦❦
I have read Sarah Addison Allen's first book,
Garden Spells,
and I thought it was quite good. It was one of the first books that I've read to utilize magical realism--taking a fairly ordinary real-world setting and introducing bits of magic and fantasy into it. I have been hoping to pick up another of her books and was very glad to be able to participate in the virtual book tour for her newest novel,
The Girl Who Chased the Moon.
Based on my past experience reading Ms. Allen's work, her newest book definitely did not disappoint!
Ms. Allen has created a mostly normal world with fantastic (but not altogether unbelievable) elements. Emily's grandfather is known as the "Giant of Mullaby," there are mysterious lights that wander the town at night (which some people believe are ghosts), and a prominent family in town refuses to go outside at night for the mysterious reason of "tradition." Emily comes to town after her mother's death knowing nothing about her mother's childhood in the town. What she learns challenges what she thought she knew about her mother.
The other main character is Emily's neighbor, Julia. Julia is a baker, biding her time until she can leave town and return to her old life in Maryland and open her own bakery. She befriends Emily even though she had a less-than-stellar history with Emily's mother. Julia's best-laid plans do not go as expected and her revelations and realizations are quite moving.
I really liked this book. I devoured it from cover to cover and found the magical aspects of the story to be delightful. I was also very surprised by the big secret that the prominent Coffey family had been hiding. I had made guesses about what they were hiding but I was caught by surprise when their secret was finally revealed. Bravo, Ms. Allen! I do enjoy being surprised! If you are looking for a very original and enjoyable read, this book is for you! I recommend it!
Sarah Addison Allen's
THE GIRL WHO CHASED THE MOON VIRTUAL BOOK TOUR '10
officially began on March 1st and will end on March 26th. You can visit Sarah's blog stops at
www.virtualbooktours.wordpress.com
during the month of March to find out more about this great book and its talented author.

Source
: Special thanks to
Pump Up Your Book Promotion
for including me as a part of this tour and to the publisher for providing me with a review copy of the book.