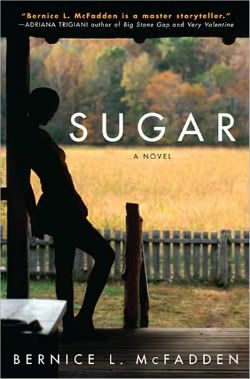 Sugar
by
Bernice McFadden
Genre:
Literary Fiction
Pages:
229
Publication Date:
January 2000
Publisher:
Plume
Source:
I won a signed copy from the author through a giveaway at her
blog
. Thank you Ms. McFadden!
Rating:
4 of 5
Book Summary:
Evoking the rich atmosphere of the deep South, Sugar tells the story of a young prostitute who comes to Bigelow, Arkansas, to start a new life. Sugar moves next door to Pearl, who is still grieving for the daughter who was murdered fifteen years before. Over sweet potato pie, an unlikely friendship begins, changing both their lives--and the life of an entire community.
❦❦❦❦❦❦❦

In a world where happily-ever-after stories are a dime a dozen, it's nice to be able to pick up a book that portrays a more realistic world that isn't all perfect and doesn't always end syrupy-sweet. Despite what the title might lead you to believe,
Sugar
is not one of those syrupy-sweet books. Set in the deep South during the 1950s, it portrays the life of a prostitute as the difficult and scary life that it is. It also portrays the life of her neighbor, a mother who lost her daughter far too soon and has to live with the horror and sorrow of her murder every day. Both Sugar and Pearl have been deeply scarred by the events of their life, but these two very different women (one a church-going woman, the other a prostitute) begin to find friendship and healing together, despite the disapproving glances and comments of the other women in town.
Sugar
is bittersweet. To learn the darkness of Sugar's past (thorough flashbacks) is to have a better idea of the choices she made (and was forced to make) in her life. As a mother, I really empathized with Pearl and the heartbreaking loss of her daughter. And the way the book ends was heart-wrenching too--I don't want to go into too much spoiler-y detail, but I was left wondering whether the healing they had experienced would provide them with more strength in their future journeys. I am glad to see that there is a sequel to this book because I am so very curious to see what is to become of Miss Sugar Lacey.
This Bitter Earth
continues Sugar's story and I hope to read it sometime this year.
As an aside, if books that contain sex and violence are not your thing, you might want to think twice about this one. It does go into Sugar's experiences as a prostitute and her feelings about it. It also describes violent and disturbing crime done both to Pearl's daughter and done to Sugar herself. I don't think the sex and violence are gratuitous (they fit in with the story and I don't think they are there to be titillating), but every person will have their own comfort levels about it. If you don't mind that this is a brutally honest depiction of two real and imperfect womens' lives, I think you will find
Sugar
to be a thought-provoking and vivid read.
Related Linkage:
Reading Challenges: POC Reading Challenge, Women Unbound, Twenty Ten Challenge