There's just something about this cover that really draws me to it. I think it's the rich color in the woman's dress and hat in contrast with the black and white surroundings. I like the purple too. I first saw this book in a review at
Things Mean A Lot
. The cover is pretty, but the book sounds very interesting too.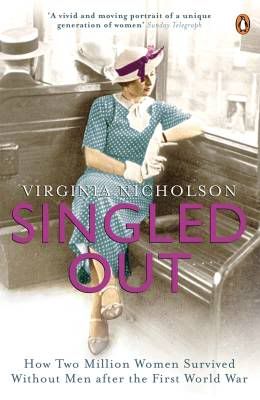 Singled Out: How Two Million Women Survived Without Men after the First World War
by
Virginia Nicholson
Genre: History, Nonfiction
Publisher: Penguin
ISBN:
9780141020624
Book description:
In 1919 a generation of young women discovered that there were, quite simply, not enough men to go round, and the statistics confirmed it. After the 1921 Census, the press ran alarming stories of the 'Problem of the Surplus Women - Two Million who can never become Wives...'. This book is about those women, and about how they were forced, by a tragedy of historic proportions, to stop depending on men for their income, their identity and their future happiness.
Eye Candy is a feature that was inspired by Marcia at
The Printed Page
and Daphne at
Tanzanite's Shelf and Stuff
, who often post about books with eye-catching covers.