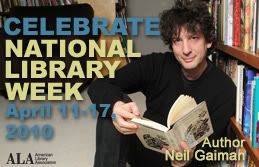 National Library Week
is an annual celebration that highlights the value of all types libraries and librarians. First sponsored in 1958, National Library Week is a national observance sponsored by the
American Library Association (ALA)
and libraries across the country each April.
Even though I don't visit the library as much as I used to, it is always a place where I both feel at home and feel like I'm stepping into a vast and fabulous world full of promise and possibility. So, I'm hoping to visit my library at least once this week, check out a book (ha! probably more than one), and thank the librarians for being there, because I know how much their hours have been cut (at our county libraries, anyway)
Anyway, the American Library Association has events planned all week:
So, yay! It's National Library Week! What are you planning to do to celebrate?