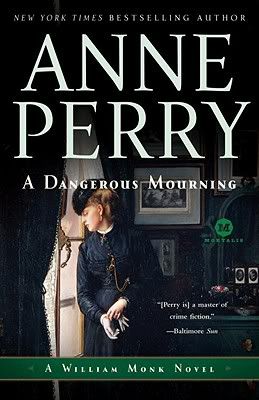 A Dangerous Mourning
by
Anne Perry
(William Monk series, book 2)
Genre: Historical Fiction, Mystery
Pages: 344
Date Published: 1991
Publisher: Ballantine Books
Source: Purchased from local thrift store.
Rating: 4.5 of 5
Publisher's Book Description
:
No breath of scandal has ever touched the aristocratic Moidore family--until Sir Basil's beautiful widowed daughter is stabbed to death in her own bed, a shocking, incomprehensible tragedy.
Inspector William Monk is ordered to investigate in a manner that will give the least possible pain to the influential family. But Monk, brilliant and ambitious, is handicapped by lingering traces of amnesia and by the craven ineptitude of his supervisor, who would like nothing better than to see Monk fail. With the intelligent help of nurse Hester Latterly, a progressive young woman who served with Florence Nightingale in the Crimea, Monk gropes warily through the silence and shadows that obscure the case, knowing that with each step he comes closer to the appalling truth....
William Monk is an inspector for London's new Metropolitan Police Force, and by all accounts he is good at what he does, if a bit abrasive. But he has to rely largely on what he ascertains from others about himself because he has a severe case of amnesia, caused by a carriage accident in book 1 of this series (
which I read and reviewed in November
). In this installment, Monk is assigned the duty of finding out who murdered Ms. Octavia Haslett. He not only has to find and interpret the evidence, he also has to navigate and work within the rigid class system that existed in Victorian England in the mid-1800s. What he finds brings him once again into contention with Runcorn, his supervisor, who would like nothing more than to have a reason to toss Monk out of the force for good.
I really enjoyed this book. Monk was much less angst-ridden in this book, and did a lot less second-guessing and introspection than in the first book of the series. I also really enjoyed the part that Hester Latterly, former war nurse, played in the investigation. Her experiences provided significant insight that helped solve the mystery of what happened the night Ms. Haslett died. Monk was a bit less rude to her this time as well, and they seemed to have a better understanding and rapport with each other. They worked together quite splendidly on the case. I am definitely looking forward to reading what happens to these two characters in the next book,
Defend and Betray.
So I enjoyed the characters in the book, but I also thought the mystery was absolutely riveting. I was kept guessing right up until the truth was revealed, and was dumbfounded by the revelation. When I closed the book I was surprised by the way the mystery had pulled me along, kept me guessing, and blew me away without seeming unrealistic or clichéd. And I was angered and shocked by the way Percival, the footman, was treated as a suspect. Everyone assumed one of the servants had to have perpetrated the crime (to think a member of the family did it would be scandalous), and it seemed like everyone (except Monk) wanted to get it over with and charge him with the crime. I definitely recommend
A Dangerous Mourning
, but if you want to have a good grasp of the characters' histories I would also recommend reading the first book in the series (
The Face of a Stranger
). It isn't
absolutely
necessary, but I think it helps to explain Hester and Monk's back stories more completely, which are both quite interesting.
This post is part of the
Detectives Around the World event
, hosted by Jen at
Jen's Book Thoughts
.
In conjunction with this event,
I wrote up a post on William Monk's Victorian England
, with special attention paid to the class system of the times. Monk chafes a lot at the class system, as his occupation is considered socially inferior to the aristocracy he must interact with in his investigations. So click here if you're interested in learning more about William Monk's England!
Reading Challenges: Historical Fiction Reading Challenge, Thriller & Suspense Reading Challenge, Typically British Reading Challenge, Twenty Ten Challenge (TBR)