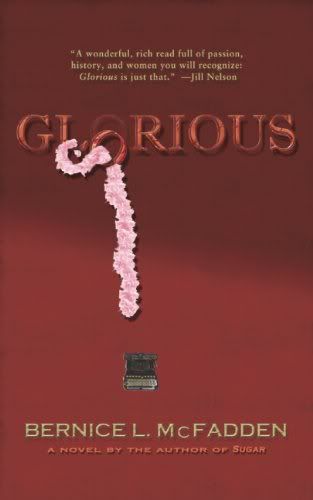 Glorious
by
Bernice McFadden
Genre:
Historical Fiction
Pages:
235
Date Published:
May 1, 2010
Publisher:
Akashic Books
Rating:
3.5 of 5
Publisher's Book Description
:
Glorious is set against the backdrops of the Jim Crow South, the Harlem Renaissance, and the Civil Rights era. Blending fact and fiction, Glorious is the story of Easter Venetta Bartlett, a fictional Harlem Renaissance writer whose tumultuous path to success, ruin, and ultimately revival offers a candid and true portrait of the American experience in all its beauty and cruelty.
❦❦❦❦❦❦❦
I love reading historical fiction. Through fictional works, I can feel like I am inside a character's head and understand their feelings much more vividly than through nonfiction works of history. I was mainly pulled to this book because of the time periods being portrayed—I particularly wanted to learn more about the experiences and lives of African Americans during the Harlem Renaissance.
Glorious
definitely transported me to a past that I never could have imagined on my own. When I first picked up this book to take a look at the first few pages, the prologue grabbed me and pulled me in immediately. I read Ms. McFadden's first book,
Sugar
, last month and thought it was a thought-provoking and intriguing read, and have been looking forward to reading this book, her newest release.
Many parts of this book were amazing. I was struck by the vivid image of the Jim Crow south and racism of the North in this book, and the reality it depicted haunted my dreams. There are several events early in the book that made me feel like someone had poured cold water on me—depictions of a rape, a lynching, and an abortion. They were told in a detached yet honest way, but they were shocking and heart wrenching nonetheless. I think the horrifying description of the lynching will haunt me for a very long time.
Although I found myself drawn in and fully engaged as a reader in many parts, I ended up feeling like the book as a whole was a bit uneven. Certain parts were gripping, but other parts left me wishing for more. I never really felt like I got to know Easter that well, and every time I thought I was going to learn more about the other characters Easter decided to pack up and move on, leaving those characters behind and introducing a whole new set of characters. The fact that this book covers such a long stretch of time (1910-1961) has a lot to do with it—it covers so many years in 235 pages that it can't really dwell on any one episode for too long. It must keep moving on, just like the main character.
So, in the end, I am glad I read this book. I thought it was an amazing look at the Jim Crow south and the Harlem Renaissance, but in some ways it only scratched the surface. If you liked
Sugar
, I think you will like
Glorious
as well.
Want to read some more reviews of Glorious? Check them out here:

If you'd like to learn more about author Bernice McFadden,
click here to visit her website
and
click here to visit her blog
.
**I received a copy of this book from the author for review. Thank you Ms. McFadden!**
Reading Challenges: POC Reading Challenge, Women Unbound, Historical Fiction Reading Challenge, Twenty Ten Challenge