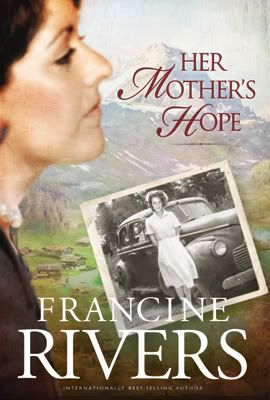 Her Mother's Hope
by
Francine Rivers
Genre: Christian Historical Fiction
Pages: 498
Date Published: March 2010
Publisher:
Tyndale House
Rating: 5 of 5 stars
Book description
(provided by Christian Speaker Services)
:
Near the turn of the twentieth century, fiery Marta Schneider is torn between her father's declaration that she'll never be more than a servant and her mother's encouragement to chase her dreams. Determined to fulfill her mother's hope, Marta leaves home for a better life. Young and alone, she earns her way with a series of housekeeping and cooking jobs that bring her ever closer to her dream of owning an inn.
Heartbreaking news from home strengthens Marta's resolve as she moves to England and eventually to Canada. There, she meets handsome Niclas Waltert, a man just as committed as she to forging a better life in a new place. But nothing has prepared her for the sacrifices she must make for marriage and motherhood as she travels first to the Canadian wilderness and finally to the dusty Central Valley of California to raise her family.
Marta's hope is to give her children a better life, but experience has taught her that only the strong survive. Her tough love is often misunderstood, especially by her oldest daughter, Hildemara Rose, who craves her mother's acceptance. Amid the drama of World War II, Hildie falls in love and begins a family of her own. But unexpected and tragic events force mother and daughter to face their own shortcomings and the ever-widening chasm that threatens to separate them forever.
This was my first time reading a book by Francine Rivers, and it will not be my last.
Her Mother's Hope
is the first book in a two-book series, and having read the first book I am waiting on pins and needles for the next book,
Her Daughter's Dream
. I am also quite glad that I have a few more of Ms. Rivers's books on my TBR pile already, and they will be moving up in the pile now that I know what kind of writing I can expect.
The book first focuses on Marta and follows her life from young adulthood to the adulthood of her children. Marta is a strong woman who is stubborn and determined to live her life on her own terms. She faces a lot of difficulty and heartbreak during her life, and while her struggles have made her stronger they have also shaped some of her attitudes in ways that cause different members of her family some heartache. She seems to mean well, but it isn't interpreted in the way that she means it--they don't always understand the motives behind her actions.
About a third of the way in, the book shifts focus from Marta to her oldest daughter, Hildemara Rose. Marta fears Hildemara is too weak and that she must toughen up to avoid what her weak younger sister suffered in her short life. It makes life difficult for Hildemara, who is a loving and caring girl who only wants to help other people. She has a much different character than Marta, who was always more focused on being independent. Their relationships are so
real
and painful, just as real relationships are. Nothing is sugar-coated here, and it was so moving and wonderful to be reading about relationships that were so realistic.
The story covers a long period of time (the turn of the twentieth century through both world wars and into the 1950s), and although there were times when the story jumped through the years, it never felt jarring. The story flowed beautifully. It takes place in two continents, starting in Switzerland and moving to England, then Canada, and eventually ending up in California. The California setting really caught my interest, because it is set in the Central Valley, where I live. I don't live exactly where the book is set, but the locations are familiar and the land is largely the same. Not only does the book convey the difficulties of farming in the Central Valley during the Great Depression, it also covers the difficulties that immigrants had during wartime. Marta's husband had been German and one of their neighbors, the Musashis, were Japanese Americans, so not only did they face some grumbling for their "Hun" background, they also faced animosity when they take care of the Musashi farm until their return from internment. This was such an interesting point and place in time to have weaved into the storyline.
This book is one of my favorite reads of the year so far, and I highly recommend it. As Christian fiction, it doesn't get much better than this--it was nice to read about real characters with weaknesses who make mistakes and grow in their faith. I could really identify with these characters, who were imperfect and whose stories were uncomfortable at times, but relatable because I know I have uncomfortable areas of my past that are hard to look back at sometimes.
Her Mother's Hope
ends at a bit of a cliffhanger. I didn't know it would end this way and was disappointed at first, but am really looking forward to the culmination of Marta and Hildemara's stories in
Her Daughter's Dream
.
The trailer for this book is fantastic--I hope you'll take a look at it:
PLEASE NOTE: A complimentary copy of this book was provided to the me as a blog tour host by Tyndale House Publishers in exchange for posting an interview on my blog (click here to see the interview). Please visit Christian Speaker Services at
www.ChristianSpeakerServices.com
for more information about blog tour management services.
Reading Challenges: Historical Fiction Reading Challenge, Christian Historical Fiction Reading Challenge, Awesome Author Challenge